"These 6-ingredient Garlic and Onion Grain Free Shamrock Rolls are perfect for St. Patrick's Day or anytime of the year. Your friends will be impressed with the shape, as well as the amazing taste!
I chose Chebe Bread Garlic and Onion Breadstick mix for this recipe. It contains no grains, gluten, gmo's, or any gross words you can't pronounce. It holds together beautifully, rolls well, and tastes just as amazing as it smells. Chebe Bread is based on Brazilian cheese bread. While other similar brands may come in frozen, preshaped balls, Chebe Bread comes in a versatile mix that can be adjusted for a plethora of food allergies.
While the dough recipe for these Grain Free Shamrock Rolls is mine, the shape originated with Sue from "Creative Try-Als." She gives a step by step tutorial of how to shape her St. Patrick's Day Shamrock Buns. Luckily, this Chebe Bread dough is very forgiving if you don't get the shape right the first time. Simply ball it up and roll again." – Margaret, MI Gluten-Free Gal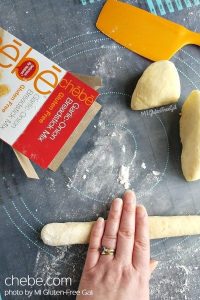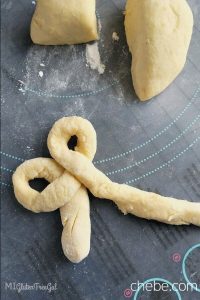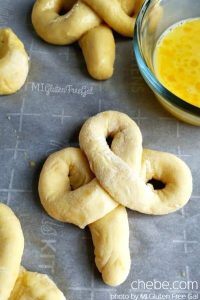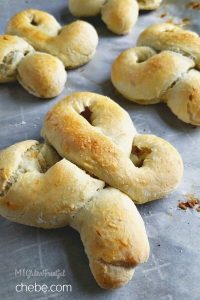 This fun recipe, and all photos, are from the talent of MI Gluten-Free Gal.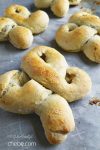 Grain Free Shamrock Rolls
Ingredients
1

package

Chebe Garlic- Onion Breadstick Mix

3

Tbsp

butter, cold and cut into cubes

(may use oil if you want dairy free)

2

eggs

room temperature

4

Tbsp

milk, preferably soured

(may use a milk substitute)
For the Egg Wash
1

egg

beaten

1

Tbsp

milk

or water
Instructions
In a food processor, combine the Chebe mix and butter. Pulse until butter is completely incorporated into the dry mix.

Remove top to food processor and crack in two eggs. Replace lid and pulse until eggs are completely blended into the batter. This may take several pulses. If needed, remove lid and use rubber scrapper to clean down sides.

Finally, slowly add milk to the food processor through the hole in the top. Do so while the mixer is on, until a soft dough is formed.

Remove dough ball from food processor and transfer to a flat surface. Make sure to get any remaining bits of dry mix from the processor and add to dough ball. Knead 5 or 6 times until a small, round dough ball forms.

Divide the ball of dough into four sections, and lightly flour your work surface. Roll one section into a long "snake" (approx. 18 inches) with your hands, using equal pressure rolling from the center out to the ends.

Now to form the shamrock rolls. Start by leaving enough dough for the stem, about an inch and a half. Then create a loop to the left and then another at the top. (See image above). Finally, create your third loop by tucking the remaining dough underneath the top loop. Place shamrock rolls on a cookie sheet, line with parchment paper.

Brush dough with a mixture of egg and milk. Sprinkle with salt. Chill for 10 minutes in the freezer prior to baking.

Bake in a 350 degree oven for 30 minutes, until tops are golden brown. Serve hot.
Recipe Notes
Add 2 or 3 oz. of shredded Parmesan cheese, or a dairy free equivalent, to the ingredients for added flavor! Add the cheese in step 2.
If you do not have a food processor, you may mix the dough in an electric mixer (like a Kitchen Aid) or in a bowl with a fork and your hands (like the back of the package indicates).
This recipe works great with Chēbē Garlic-Onion Breadstick Mix, but you may also try it with these Chēbē mixes: