Got an appetite you want to satiate? How about sitting down to a Chēbē Bread Basket of hearty, healthy fixings? This one is filled with all the good stuff of a full breakfast and it's gluten and grain free! It's got bacon and eggs with sautéed asparagus and mushrooms, baby greens, cherry tomatoes and goat cheese all making company in a 'basket' of Chēbē Bread. Of course, this is suitable for any meal, but bacon and eggs puts you in the breakfast frame of mind for sure!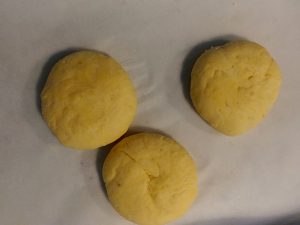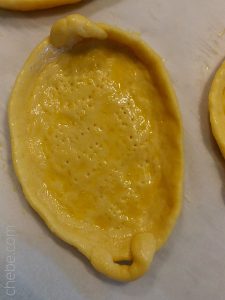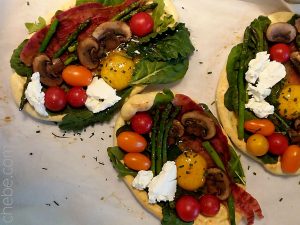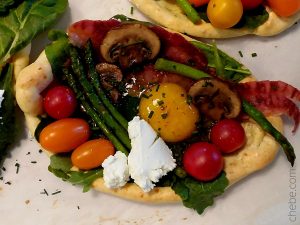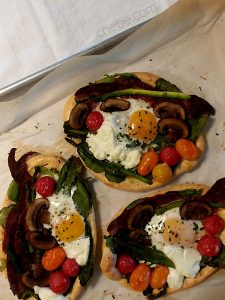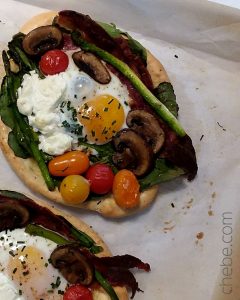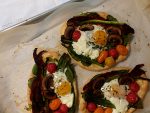 Chebe Breakfast Baskets
Ingredients
The basket:
1

package (7.5 oz)

Chebe All Purpose Bread Mix

1

oz

grated Parmesan cheese

(optional)

2

large eggs

4

Tbsp

milk or milk substitute

2

Tbsp

olive oil

egg wash (1 egg and 1 Tbsp water blended)
What goes in:
handful of baby greens (spinach, kale, chard, arugula)

6

strips

cooked bacon

1

Tbsp

olive oil

10 - 12

asparagus tips

2 -3

baby bell mushrooms,

sliced

3

eggs

12

cherry tomatoes

1 - 2

oz

goat cheese

1

Tbsp

fresh chives,

finely chopped

sea salt and freshly ground pepper
Instructions
Preheat the oven to 400F.

In a bowl and using a fork, blend into the Chēbē mix the cheese, eggs, milk and oil. Mix for a few minutes then continue kneading with your hands until the dough is smooth.

Divide the dough in 3 equal pieces (about 5 oz each). As a decorative touch, you may wish to remove a small bit of dough from each piece to shape into basket handles and attach to the basket edges.

Shape each piece into a basket with a diameter of about 5 to 7" and with ½" walls. (Baskets may be round, oval or oblong.)

Brush the entire surface with egg wash and with a fork poke holes (dock) all over the surface of the basket. This helps to prevent the dough from puffing in the oven.

Par bake the baskets for about 10 minutes. Check after about 5 minutes to see if the dough puffs in any place. If it does, you may press it down with a fork.

Meanwhile, sautee the asparagus and mushrooms in olive oil for about 5 minutes.

Remove the baskets and fill them with the greens and bacon. Drop an egg on each, then finish up with the asparagus, mushrooms, tomatoes, chives, and goat cheese. Season with salt & pepper.

Bake for about 15 minutes or until the eggs are baked to your desire.
Recipe Notes
This recipe is easily made dairy free by omitting any cheese or using a cheese substitute.
This recipe works great with Chēbē All Purpose Mix, but you may also try it with these Chēbē mixes: