Cruising the internet for recipe ideas, we came across this awesome looking 'tart' recipe. To us it looked more like a gourmet version of pigs in a blanket, so, we named it prosciutto in a shawl.  Including the goat cheese, asparagus and eggs definitely make this a meal… and a meal that is unreservedly delicious!
And whether the shawl is wrapped or flung open, with Chēbē it is always gluten and grain free!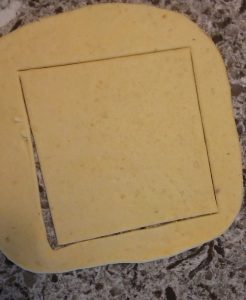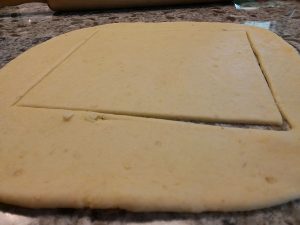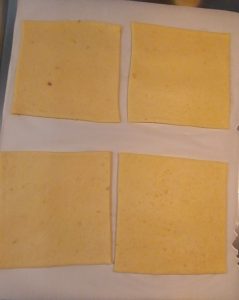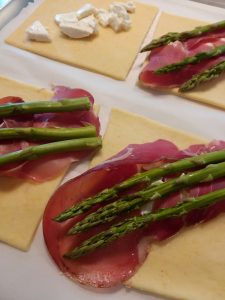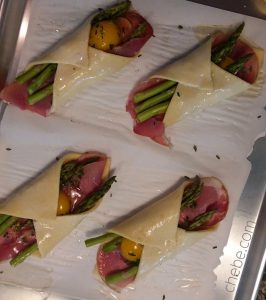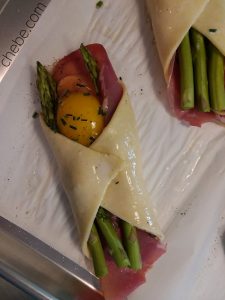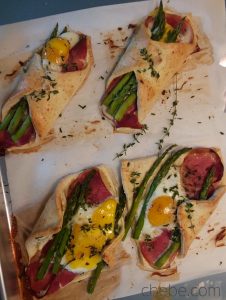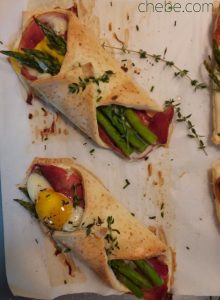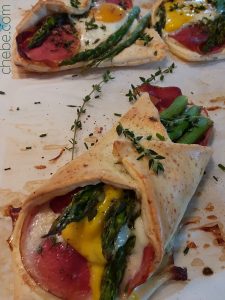 This recipe idea courtesy of Eat. Live. Escape.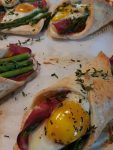 Prosciutto, Eggs, and Asparagus in a Shawl
Ingredients
Dough:
1

package (7.5 oz)

Chebe Garlic Onion Breadstick Mix (or other savory Chebe flavor)

1

oz (¼ cup)

Parmesan Cheese

2

eggs

large

4

Tbsp

milk or milk substitute

2

Tbsp

oil
Toppings:
3

oz

goat cheese in pieces

4

strips

prosciutto ham

(you could also use bacon or smoked ham)

12

sprigs

asparagus

thin and cut to about 6 inches

4

eggs

Fresh thyme and chives

Kosher salt and freshly ground pepper to taste

Milk or egg wash to spread on dough
Instructions
Preheat oven to 400F.

In a mixing bowl and using a fork, blend the Chebe mix with the Parmesan, 2 eggs, milk and oil. Continue blending until the dough is smooth (get your hands in it!). This gives you about 14 oz of dough.

Break off about a third of the dough and using a clean surface, flatten the dough to about 1/8 inch (3mm) using a rolling pin. Cut this piece into a 6"x 6" square. Place it on a baking pan lined with parchment paper.

Blend the dough scraps back with the remaining dough and repeat the process 3 more times until you have four squares (diamonds) on the baking pan. (You will probably have a little bit of dough remaining. You can form this into rolls or breadsticks and bake them on the same pan.)

On each piece, spread the goat cheese bits evenly along the center of the diamond (tip to tip). Layer one piece of prosciutto in the same direction, then lay 3 sprigs of asparagus on top of the prosciutto.

Make a little indentation in the cheese/prosciutto for the egg yolk (so the egg doesn't run off of the dough!). Crack an egg and drop it carefully into the indentation. Season with salt, pepper and herbs.

Carefully fold the 'wings' of the diamond over the center so that they overlap. Brush with milk.

It will be helpful to blend the dough of the top flap into the dough beneath it using a wet finger. This will help the dough hold together. Of course, like ladies who wear shawls, sometimes they keep them wrapped, and sometimes they wear them opened!

Bake for 18 – 20 minutes. Remove from oven and sprinkle with more of the herbs before enjoying!
This recipe works great with Chēbē Garlic-Onion Breadstick Mix, but you may also try it with these Chēbē mixes: