The inspiration of this incredible and appropriately named pizza came from Half Baked Harvest. Our version is slightly modified from her Garden Greens Goddess Pizza (link below). Of course, the major difference/ improvement is the crust.  Those who know Chēbē understand that in spite of it being free of gluten and grains, it is about as good as it gets as far as pizza crusts go.
Though probably available year round for most, the toppings on this deity just scream summer. Baby greens and zucchini from the farmer's market, chives and basil from the planter on your porch, dots of goat cheese and drizzles of olive oil… they just scream it!
No more talking, grab your flip-flops and get to it!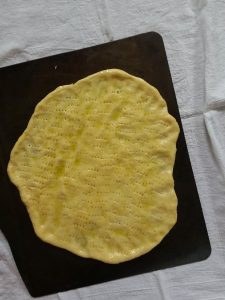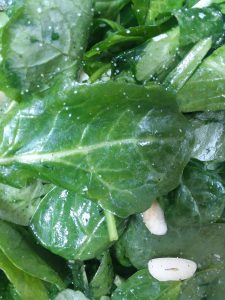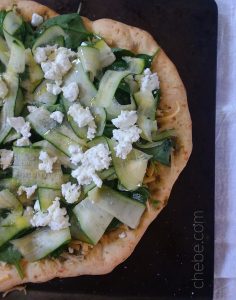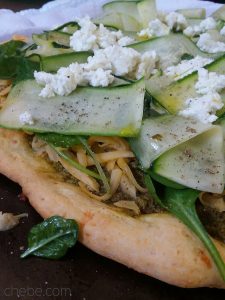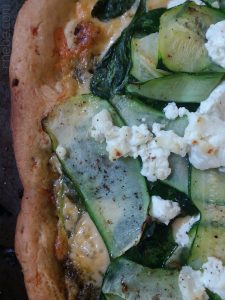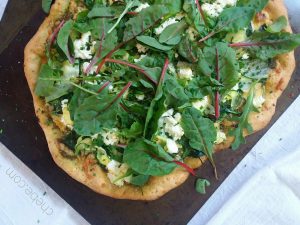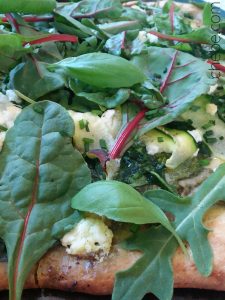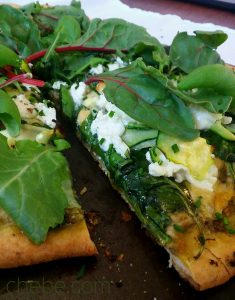 Recipe adapted from Half Baked Harvest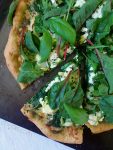 Grainless Green Goddess Pizza
Ingredients
Dough:
1

package (7.5 oz)

Chebe Pizza Crust Mix

4

Tbsp

milk

2

oz

Gouda cheese,

freshly shredded

2

large eggs

2

Tbsp

oil (since you already have it out, use the olive oil)
Topping:
4

Tbsp

olive oil

(separated 2:1:1)

4

oz

pesto

5

oz

Gouda cheese,

freshly shredded

2

oz

baby kale & baby spinach

2

cloves

garlic,

thinly sliced

Kosher salt and freshly ground pepper

to taste

4

oz

goat cheese

in pieces

3

oz

(1/2 medium) zucchini

shaved (use a potato peeler)

1.5

oz

baby chard & baby arugula

Fresh basil and chopped chives

for topping
Instructions
Preheat oven to 450F. In a mixing bowl, add the Chebe mix. With a fork, blend in the milk, 2 oz of cheese, eggs and oil. Mix for a couple of minutes with the fork, then use your hands and knead it until the dough is smooth and well blended.

Flatten the dough with your fist to a diameter of about 12 or 13 inches, flipping the dough while working it. (Depending on your preparation surface, you may want to dust the surface with corn meal or other gluten free flour.)

Place the dough on a baking pan and dock it (poke holes) with the tines of a fork. Brush the surface and the ridge with 2 Tbsp olive oil.

Bake for about 8 minutes. While the dough is par-baking, lightly toss the baby kale, baby spinach and garlic with a Tbsp of olive oil. Season with the salt and pepper and toss a little more.

When the dough is out of the oven, top it in this order: pesto - 5 oz of Gouda - kale/spinach mixture – half of the goat cheese – zucchini shavings – rest of the goat cheese. Drizzle with olive oil and sprinkle with salt and pepper.

Return to the oven for about 10 minutes or until bits of the goat cheese are slightly charred.

Remove from the oven and top with the baby chard, baby arugula, basil and chives. Are you ready for a slice of heaven?
This recipe works great with Chēbē Pizza Crust Mix, but you may also try it with these Chēbē mixes: