A delicious cross between a pizza and a hot pocket, Chēbē Pizza Pockets are free of gluten and all grains and make a perfect lunch or dinner for kids of any age.  This recipe came to us compliments of Dinner for Mary and 100% Paleo (substituted the dairy ingredients). So, you may choose your Chēbē Pizza Pockets to be with or without dairy things.  (Chēbē is flexible like that!)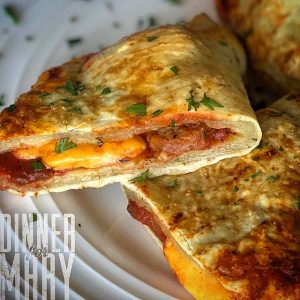 Recipe and photos by Dinner for Mary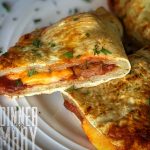 Grain Free Pizza Pockets
Ingredients
Egg wash

(1 egg beaten with 1 Tbsp water)

8

oz

fresh pork sausage, loose

(or precooked sausage in pieces)

1

package (7.5 oz)

Chebe Pizza Crust Mix

2

large eggs,

room temperature

4

Tbsp

milk or milk substitute

2

Tbsp

oil

1

can (6 oz)

tomato paste

1

tsp

each salt, pepper, garlic powder, onion powder, oregano, basil

8

oz

shredded pizza cheese or dairy free shredded cheese

2

Tbsp

fresh parsley

minced
Instructions
Preheat oven to 500F

Prepare egg wash and set aside

Fry the sausage on a skillet until cooked and crumbly. Drain and set aside.

Prepare the Chebe dough according to package instructions, blending the mix, eggs, milk and oil until the dough is smooth and well blended. Separate into 4 equal pieces.

On a piece of parchment paper, roll-out each piece of dough flat into 8" circles.

Combine tomato paste, 6oz can of water, and the spices in a bowl to make the tomato sauce.

Add the tomato sauce, cooked sausage, and cheese in equal portions to the middle of the circles of dough, leaving a border for the edges.

Fold the circles in half and pinch the edge together to seal. (It helps to use a fork to crimp the edges.)

Brush the tops with the egg wash and bake on a cookie sheet in the oven for 10 minutes.

When done, sprinkle the parsley on top and allow to cool about 5 minutes. Ready to serve!
Recipe Notes
You may add or substitute the pizza ingredients (e.g. Canadian bacon, mushrooms, olives, etc.) but be careful not to overfill the dough.
Recipe by Dinner for Mary
This recipe works great with Chēbē Pizza Crust Mix, but you may also try it with these Chēbē mixes: