"These individual dessert pizzas could not be easier or prettier. I took some time and labor saving shortcuts with the crusts using Chebe All-Purpose Bread Mix and the rest was just a matter of mixing and layering."- Carol Kicinski, Simply Gluten-Free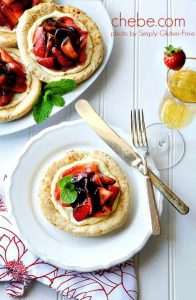 Recipe and photos by Simply Gluten-Free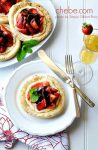 Gluten Free Strawberry Mascarpone Pizzas
Ingredients
1

whole lemon

1

pint

fresh strawberries

rinsed, hulled and quartered

1

Tbsp

granulated sugar

1

package (7.5 oz)

Chebe All-Purpose, or Original Bread Mix

2

tsp

grapeseed (or other neutral flavored) oil

2

large eggs

lightly beaten

4

Tbsp

water

4

tsp

raw sugar (you can also use sanding sugar

coconut sugar or any sugar you like)

4

oz

Marscapone cheese (for dairy free substitute dairy free cream cheese alternative) – at room temperature

2

Tbsp

honey

4

Tbsp

gluten free chocolate or fudge sauce

leaves

Mint for garnish
Instructions
Finely grate the zest of the lemon with a microplane grater, save for the Marscapone. Squeeze the juice of the lemon and toss with the strawberries and 1 tablespoon of sugar, let sit.

Preheat oven to 450 degrees and line a baking sheet with parchment paper or a silicon baking mat.

Combine the Chebe mix with the raw sugar, oil, beaten eggs and water. Mix until mostly combined then dump the mixture onto a clean work surface and knead until the dough is smooth.

Divide into 4 equal portions and roll into balls. Lay a piece of parchment or wax paper on a work surface and roll the balls into 5 inch circles. Place the rolled dough onto the prepared baking sheet. With your fingers flatten the dough leaving a ¼ inch around the edge that is not flattened. Prick the bottom of each pizza crust several times with the tines of a fork.

Bake the crusts for 12 – 15 minutes or until the crusts are browned. Remove from oven and let cool.

Combine the Marscapone cheese with the grated lemon zest and honey. Stir until smooth.

Spoon the mixture evenly onto the cooled crusts and with the back of the spoon spread the mixture into an even layer. Drain the strawberries and spoon them on top of the Marscapone cheese. Drizzle each pizza with 1 tablespoon of chocolate or fudge sauce, garnish with a sprig of mint and serve.