"For my galette, I used peaches, plums and cherries but you can use whatever stone fruits you like; apricots would be a lovely addition. I also used the All-Purpose Bread Mix from Chebe, which is dairy free as well as gluten free. I did add just a touch of sugar to the crust (none to the fruit, it was perfectly ripe and sweet enough) but you could leave that out if you want the galette to be sugar free. This Gluten Free Summer Fruit Galette recipe really lets the gorgeous summer fruits shine! Enjoy." – Carol Kicinski, Simply Gluten-Free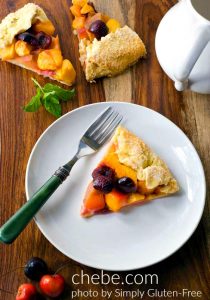 Recipe and photos courtesy of Simply Gluten-Free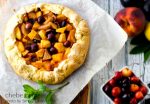 Gluten Free Fruit Galette
Ingredients
Filling:
2

pounds

peaches,

skinned, pitted and cut into 1 inch pieces, 2 or 3 large

1 1/2

pounds

plums,

skinned, pitted and cut into 1 inch pieces, 2 or 3 large

1

pint

cherries,

pitted and halved

Juice and zest of 1 lemon,

zest finely grated
Dough:
1

package (7.5 oz)

Chebe All-Purpose Bread Mix

1

Tbsp

sugar

4

Tbsp

water

3

large eggs,

divided

2

Tbsp

grapeseed or vegetable oil

2

Tbsp

sanding sugar

or other coarse sugar
Instructions
Preheat oven to 375F.

Combine the fruit with the lemon juice and zest and let sit while preparing the crust.

In a mixing bowl, combine the Chebe bread mix with the sugar, water, 2 eggs and the oil. Mix with a fork for a couple of minutes. Then, with your hands, knead the dough until it is smooth and well blended. Form the dough into a ball.

Place the dough on a piece of parchment paper about 15 inches square, top with another piece of parchment and roll into a 14 inch circle, it does not have to be perfect. Remove the top piece of parchment paper and place the bottom piece of parchment and the dough on a baking sheet.

Using a slotted spoon, pile the fruit onto the dough, leaving a 2 inch border. Fold the dough up over the edges of the fruit, pleating if needed. If there are any holes in the dough just pinch them closed. Beat the remaining egg and brush over the crust, then sprinkle with the sanding sugar.

Bake for 40 – 45 minutes or until the crust is browned and the fruit bubbly.
Recipe Notes
You may substitute the fruits above with any seasonal or frozen fruit.
Recipe courtesy of Simply Gluten-Free
This recipe works great with Chēbē All-Purpose Bread Mix, but you may also try it with this Chēbē mix: