Churros are fried pastry dough popular on the Iberian Peninsula and in Latin America. Of course, they are normally made with wheat flour. But Chēbē has the answer for those who follow a gluten and /or grain free diet. We know you will enjoy these!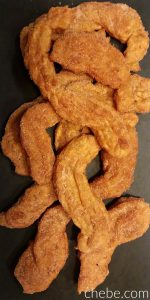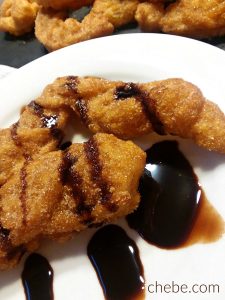 American Glutenfree made theirs and posted it on Instagram. Here it is!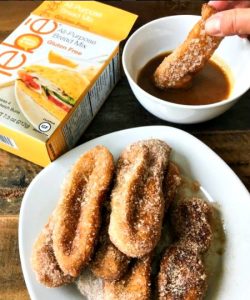 photo by #americanglutenfree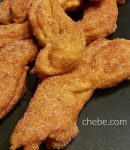 Gluten Free Chebe Churros
Servings
:
20
(+/-) 4 inch churros
Ingredients
1/2

cup

white sugar

1

tsp

cinnamon,

ground

Oil for deep frying, vegetable, canola, sunflower, or similar

(fill a pan to about 2" deep)

1

package (7.5 oz)

Chebe All Purpose Mix

(see note 1)

3

Tbsp

brown sugar

2

eggs

2

Tbsp

oil

1/2

tsp

vanilla extract

3/4

cup

water

A piping bag with a medium sized tip.

(see note 2)
Instructions
In a deep dish, blend the white sugar and cinnamon. Set aside.

Fill a pan 2 inches deep with cooking oil, Heat to 375F, using a candy or deep fry thermometer to measure; do not allow the oil to go over 400F. (see note 3)

While the oil is heating, put the Chebe mix in a bowl and with a fork blend in the brown sugar. Continue blending in the eggs, oil and vanilla.

When this is well blended, mix in the water about 1/4 cup at a time. Continue until the dough (thick batter) is well blended.

Fill the piping bag with the Chebe dough. Squeeze the dough into the hot oil in about 4 inch segments. Separate the segments using your finger or a knife. Depending on the diameter of your pan, you may fit 3 to 5 churros at a time. (If you've never done this, go to YouTube and look for churro videos to give you an idea.)

Fry the churros for 2 or 3 minutes on each side, or until golden brown, flipping the churros with metal tongs.

When done, using tongs remove from the oil and rest them on folded paper towels and start another batch. While the batch is frying, take the churros from the paper towel, place them in the deep dish and cover them with the cinnamon/sugar mixture. Place them on a plate and set aside.

Continue this process until the dough is gone. All done! Enjoy in moderation 😉
Recipe Notes
(1)Chebe Cinnamon Roll Mix also works for this recipe. You do not need to add the brown sugar to the dough if using the Cinnamon Roll Mix.
(2)If you do not have a piping kit, you could use a plastic freezer bag with a small hole cut in the corner. Here is a 30 second video on how to assemble a piping bag and tip: http://bit.ly/2tOPrnO
(3)It is important that the temperature of the oil remain at 375F or a little above. You will want to periodically check the temperature while frying each batch of churros as the temperature can drop while frying the dough.
Churros are even better dipped in chocolate sauce. There are lots of online recipes. Search for 'chocolate sauce for churros'.
This recipe works great with Chēbē All Purpose Bread Mix, but you may also try it with these Chēbē mixes