If your four-legged friend could talk, he or she might insist on gluten and grain free biscuits. Fido's Favorite Biscuit is made with naturally gluten and grain free Chebe mix plus a few other ingredients that make a grown dog salivate, like bacon, liver and cheese!  But be careful, the next time you open a box of Chebe for yourself you just might trigger a Pavlovian response in your pooch!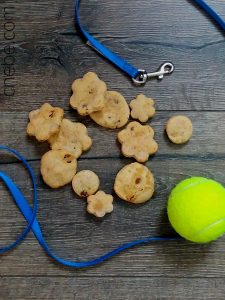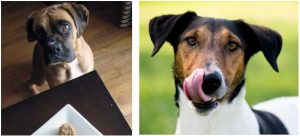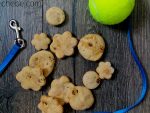 Fido's Favorite Biscuit
Ingredients
1

tsp

bouillon (1 cube) + ½ cup hot water

1

package (7.5 oz)

Chebe Original or All-Purpose Mix

1

oz

shredded cheddar cheese

2

Tbsp

bacon bits

1

Tbsp

liver powder

1

egg

1

Tbsp

cooking oil
Instructions
Preheat the oven to 350F.

Heat ½ cup of water on the stove or in a microwave to a boil. Add the bouillon and blend until dissolved. Place the Chebe mix in a bowl. Using a fork, blend into the mix the cheese, bacon, liver powder, egg, and oil. Finally, blend in the bouillon.

Continue mixing with the fork, then use your hands to blend the dough until smooth.

Roll the dough out to about ¼" thick and, with a cookie cutter* size that is appropriate for your pooch, cut out your biscuits. Place them on a baking tray and bake for 20 to 22 minutes or until lightly browned.
Recipe Notes
*No cookie cutter? Freehand your shapes using a knife to cut the dough.
Store in an air-tight baggie for a day or two. If you want them for a longer period, store in an air-tight baggie in the freezer. To serve, remove and thaw.