"Pasties are hand-held pies that are made from a round of pastry (alas – not usually gluten free), filled with an un-cooked filling (usually meat), folded over (like a turnover or empanada) and baked. They are the national food of Cornwall and were made famous by Cornish tin miners who would carry them to work in tin buckets and eat them for lunch." – Carol Kicinski, Simply Gluten-Free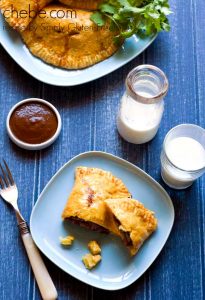 Recipe and photos courtesy of Simply Gluten Free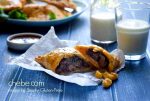 Chebe Cheeseburger Pasties
"Pasties are hand-held pies that are made from a round of pastry (alas – not usually gluten free), filled with an un-cooked filling (usually meat), folded over (like a turnover or empanada) and baked. They are the national food of Cornwall and were made famous by Cornish tin miners who would carry them to work in tin buckets and eat them for lunch."
Servings
:
4
large pasties
Ingredients
1

package Chebe All-Purpose Bread Mix

3

large eggs,

divided

2

Tbsp

oil

1

cup

grated sharp cheddar cheese

or dairy free cheese

4

Tbsp

water

1

pound

beef stew meat

1/2

small onion,

finely diced

1

tsp

kosher or fine sea salt

1/2

tsp

freshly ground black pepper
Instructions
Preheat oven to 350 degrees. Line a rimmed baking sheet with parchment paper or a silicone baking mat.

Put the Chebe bread mix, 2 large eggs, oil and cheese in a large mixing bowl and combine. Add the water and mix well. The mixture will appear dry and clumpy. Dump the mixture out onto a smooth work surface and knead by hand until smooth. If the dough does not become smooth you can add a few more drops of water, but kneading it should bring the dough together.

Divide the dough into 4 equal sized pieces. Lay a large piece of waxed paper out on a work surface, roll each piece of dough into a ball, place on one half of the waxed paper and fold the other half over the dough. Roll into a 7 inch circle. Repeat with remaining dough.

Remove any fat from the beef, cut into 1/4 inch pieces. Place a quarter of the beef pieces on the bottom half of each dough circle, leaving about a half inch of dough clear from the edge. Place the diced onion on top of the beef, season with 1/4 teaspoon of salt and 1/8 teaspoon of pepper for each. Fold the dough over, forming a semi-circle. Seal the edges of the dough together well and crimp with the tines of a fork.

Place the pasties on the prepared baking sheet. Beat the remaining egg and brush on top of the pasties. Bake for 40 – 45 minutes, or until golden brown, turning the pan halfway through baking time. Place some paper towels on a plate, take the pasties off the baking sheet and place on the paper towels to absorb any excess oil.
Recipe Notes
"These pasties make a great, fun to eat dinner and can also be packed into your kid's (or American coal miner's) lunch. If wrapped in foil they stay warm for quite a while or you can nuke them for a couple minutes in the microwave. I like to eat mine dipped in gluten free steak sauce, but ketchup may be your kid's favorite dipper and oh so American." - Simply Gluten Free
A gluten free recipe that makes 4 large (and tasty) pasties.
This recipe works great with Chēbē All-Purpose Bread Mix, but you may also try it with these Chēbē Mixes: