Gluten and grain free Chebe Pizza dough is as versatile a pizza dough as they come. It doesn't break apart and can be prepared from thin to Chicago deep dish thick.  So, have you tried making skillet pizzas yet? Try this one with artichoke spinach and fresh mozzarella… you will be delighted! Make sure you get that skillet bleeping hot! This method really 'crisps up' the crust. Don't worry, Chebe can handle it!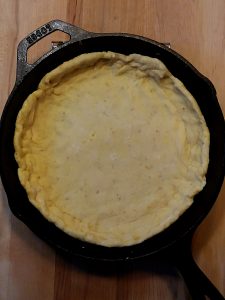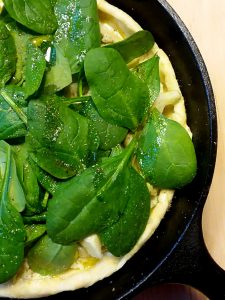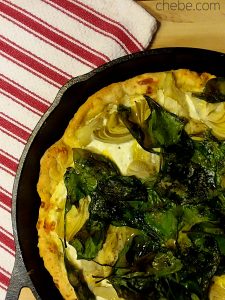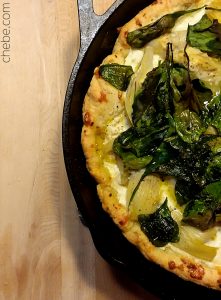 Adapted from Everyday Food with Sarah Carey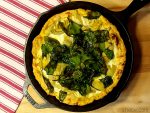 Artichoke 'n Spinach Skillet Pizza
Servings
:
1
10" thick crust pizza
Ingredients
Dough:
1

package (7.5 oz)

Chebe Pizza Crust Mix (or other savory Chebe mix)

1

oz

Parmesan cheese,

grated

4

Tbsp

milk

2

eggs,

large

2

Tbsp

olive oil

or other cooking oil
Toppings:
8

oz

fresh mozzarella cheese

¼

tsp

garlic powder

2

tsp

olive oil + more for drizzling

¼

tsp

kosher salt

1

pinch

freshly ground pepper

1

can

quartered artichoke hearts, drained

(14 can or 10 oz package of frozen)

2

cups

baby spinach
Instructions
Preheat the oven and a 10" oven proof (e.g. cast iron) skillet to 500F.

In a mixing bowl, add the Chebe mix. With a fork, blend in the Parmesan, milk, eggs and oil. Continue mixing for a couple of minutes, then use your hands and knead it until the dough is smooth and well blended.

Dust a clean surface with food starch or gluten free flour. Roll the Chebe dough to about 12" diameter.

In a bowl, blend thoroughly the fresh mozzarella, garlic powder, olive oil, salt and pepper. Set aside.

When preheated, remove the skillet from the oven. With a paper towel spread 2 Tbsp olive oil along the bottom and sides. Carefully (remember, that skillet is HOT!) lay and press the dough into the skillet. Return the dough to the oven to par-bake for 2 or 3 minutes.

Drop and spread dollops of the cheese mixture on the surface of the dough. Spread evenly the artichoke hearts and then the baby spinach. Drizzle with olive oil and sprinkle with salt and pepper.

Return to the oven for about 12 minutes or until the cheese is bubbly and the crust is golden.

Remove and let cool for about 10 minutes before slicing.
This recipe works great with Chēbē Pizza Crust Mix, but you may also try it with these Chēbē mixes: