"I seriously love a good pizza. This White Pizza with Spinach and Garlic is no exception. A surprise ingredient at the end adds just the right touch! I'm happy to say that Chebe Pizza Crust has provided me with the closest thing yet to the traditional pizza I miss so much! The crust got super crunchy and yet the center was still quite chewy! I called it a win!" – Wheat By The Wayside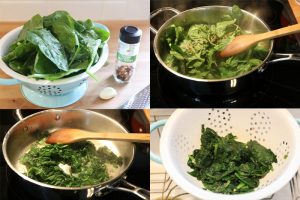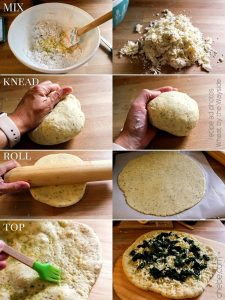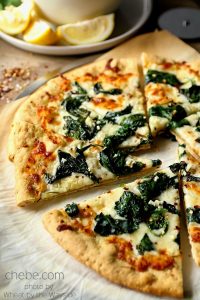 Recipe and photos by Wheat By The Wayside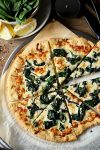 White Pizza with Spinach and Garlic
Ingredients
For the Pizza
1

package (7.5 oz)

Chebe Pizza Crust Mix

2

large eggs

2

Tbsp

olive oil,

plus more for brushing the crust

4

Tbsp

milk or milk substitute

4

oz

pizza cheese blend

2

cloves

garlic,

finely chopped

1

pinch

red pepper flakes or to taste

1/4

lemon wedge

Sautéed spinach,

see below
Sautéed Spinach
1

Tbsp

olive oil

1

clove

garlic,

minced

2.5

oz

fresh baby spinach,

about 4 cups, lightly packed

1

pinch red pepper flakes
Instructions
Preheat the oven to 450F. Place a cast-iron pizza pan in the center of the oven. (If you don't have a cast-iron pizza pan, you can use any pizza pan you have. No need to preheat it.)

While the oven pre-heats, make the sautéed spinach:

Heat 1 Tbsp olive oil in a medium size pan over med-high heat.

Add in the clove of minced garlic and stir until just fragrant. Then add in the spinach and a pinch of red pepper flakes.

Sauté for a few minutes, stirring occasionally, until the spinach is wilted but still a vibrant green. Remove from heat and place the spinach into a colander that is in the sink or over a bowl, allowing excess liquid to drain.
Prepare the Pizza Crust
In a bowl, whisk together the eggs, 2 Tbsp olive oil, and milk. Add in the Chebe Pizza Crust mix. Stir until blended. It will be loose and crumbly.

Place the dough mixture onto the counter or clean surface. Knead the dough with the palm of your hands until it comes together to form a smooth ball.

Place the ball of dough on a piece of parchment paper. Roll out the dough to be about 12-14 inches in diameter.

Using a fork, prick the dough all over the surface to prevent large bubbles. Brush the surface with olive oil. Then place the crust on the pizza pan and pre-bake for 7 min.
Top the Pizza
After 7 minutes, remove the pre-baked pizza crust from the oven.

Brush with a little more olive oil. Top with the cheese, spinach, and chopped garlic.

Place the pizza back in the oven and bake for 7 more minutes, or until golden brown and the cheese is melted.

Remove from the oven and sprinkle with a pinch of red pepper flakes. Squeeze the lemon juice all over the top. Slice and enjoy
This recipe works great with Chēbē Pizza Crust Mix, but you may also try it with these Chēbē mixes: