A healthy and hearty dish that is loaded with zucchini and tomatoes on top of a tantalizing layer of a Parmesan, parsley and goat cheese blend, and caramelized onions. Semi-wrapped in our gluten and grain free Chēbē dough, you will love the rich flavors that come together in this meal. This recipe makes four pieces, but you could make one large galette if you prefer.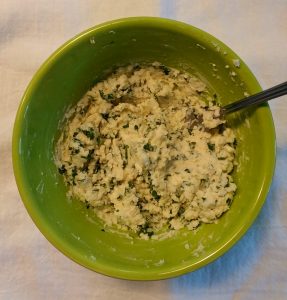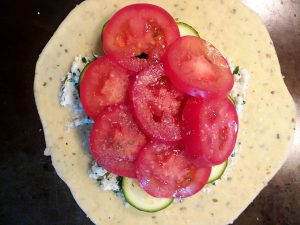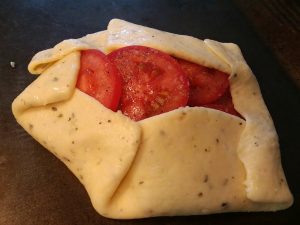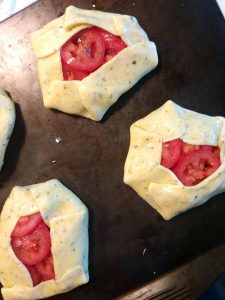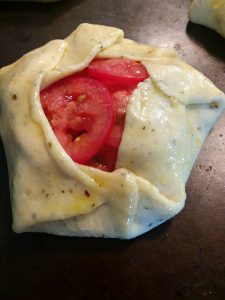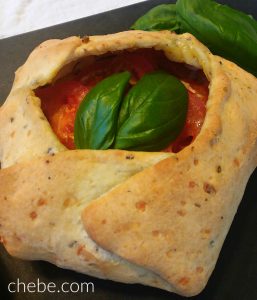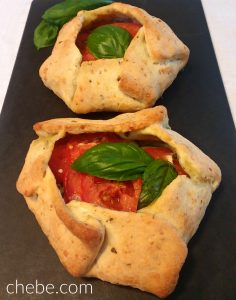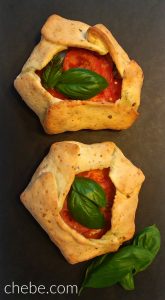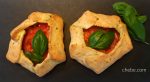 Veggie and Goat Cheese Galette
Ingredients
Toppings:
2

oz (1/2 cup)

Parmesan cheese

4

oz

goat cheese,

softened

1/8

tsp

cayenne pepper

3

Tbsp

parsley,

chopped

olive oil

2

green onions,

chopped

1/4

red onion,

chopped

2

cloves

garlic,

crushed and chopped

1/2

lb

tomatoes,

sliced

8

oz

zucchini,

thinly sliced

10

leaves

fresh basil

(may substitute, or combine with, rosemary or oregano)
Dough:
1

package (7.5 oz)

Chebe Focaccia Mix

4

Tbsp

milk or milk substitute

1.5

oz

Parmesan cheese

2

large eggs or aquafaba*

2

Tbsp

oil
Instructions
In a small bowl, blend the Parmesan, goat cheese, cayenne, and parsley. Set aside.

In a small sauce pan, heat 2 Tbsp olive oil. Add the green and red onions. Sauté for 3 minutes, then add the garlic and continue to sauté for another couple of minutes. Set aside.

Slice the tomatoes and zucchini, set aside.

Preheat oven to 450F.

In a mixing bowl, add the Chebe mix. With a fork, blend in the milk, cheese, eggs and 2 Tbsp oil.

Mix for a couple of minutes with the fork, then use your hands and knead it until the dough is smooth and well blended. Separate the dough into 4 equal pieces.

On a clean surface and using a rolling pin, flatten one piece of dough to about 8 or 9 inches in diameter. Place the dough on a large baking sheet. Spread 1/4 of the cheese mixture on the dough, leaving about one inch around the edge untouched.

Add 1/4 of the onion mixture on top of the cheese, then layer several of the zucchini and tomato slices on top of the cheese (adding salt and pepper to each layer of zucchini and tomato).

Fold the edges of the dough over the center of the toppings. The dough will overlap and you will have an opening that exposes the vegetable toppings (see photos).

With a wet finger, seal the folds of the dough in order to keep them from unfolding in the oven. Brush the dough with olive oil. Repeat the process with the other three pieces.

Bake for about 15 minutes or until the crust is golden brown. You're done. You're golden. You're gonna love it!
Recipe Notes
*For an egg-free version, use 6 Tbsp aquafaba.
This recipe works great with Chēbē Focaccia Mix, but you may also try it with these Chēbē mixes: