Thanks to the autoclave (and the tin can) pumpkin fans can have this versatile veggie anytime of the year. When it comes to pumpkin muffins, you can find hundreds of recipes online. But, not only are Chēbē pumpkin muffins moist and delicious, they are 100% gluten, grain and dairy free!  This easy recipe will have pumpkin muffins on your plate in less than an hour and the kitchen will smell like pumpkin heaven!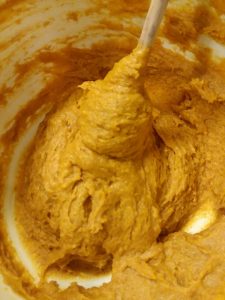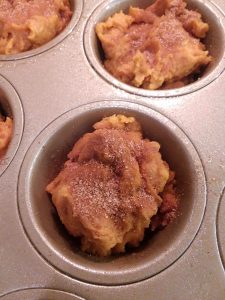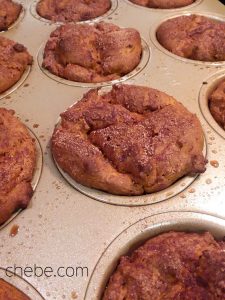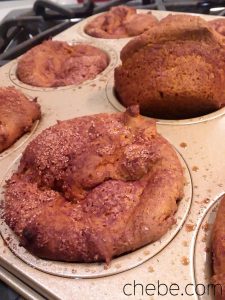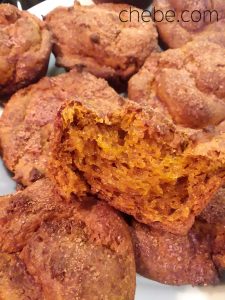 Recipe adapted from Diethood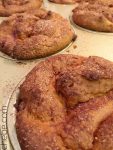 Pumpkin Muffins, Gluten and Grain Free
Ingredients
1

package (7.5 oz)

Chebe All Purpose Mix

1

tsp

fresh baking powder

1

cup

canned pumpkin

1/3

cup

vegetable oil

2

eggs

1

tsp

pumpkin spice*

1

cup

sugar

½

tsp

baking soda

½

tsp

salt

cinnamon sugar for topping, blend 1 Tbsp sugar and 1 tsp cinnamon
Instructions
Preheat oven to 350F

In a small bowl, blend the Chebe mix with the baking powder. Set aside.

In a separate bowl, blend the pumpkin, oil, eggs, pumpkin spice, sugar, baking soda and salt.

Gradually blend the dry mix in with the pumpkin mixture. Blend just enough to combine. Do not over blend.

In a small cup, blend the sugar and cinnamon.

Spray a 12 cup muffin pan, or 24 cup mini muffin pan, with nonstick cooking spray.

Divide the batter evenly among all of the muffin cups. (It's sticky, so you'll have to spoon it in with the help of a knife to scrape it off the spoon.) Sprinkle the cinnamon sugar blend on the tops.

Bake for 30 to 35 minutes (about 25 minutes if using a mini muffin pan). Remove from oven and let rest 5-10 minutes in the muffin tin, then remove and let cool 10-15 minutes.
Recipe Notes
*Make your own: 1 tsp pumpkin pie spice = ½ tsp cinnamon = 1/8 tsp each of nutmeg, allspice, ground clove and ginger powder. Blend it well.
There's no need for paper liners. The muffins will pop out nicely and they just get in the way, don't they!
Recipe adapted from Diethood
This recipe works great with Chēbē All Purpose Mix, but you may also try it with this Chēbē mix: