This glorious creation was served at a table with those both sensitive to gluten and not. All were amazed by the remarkable flavors of the fresh cheeses, heirloom tomatoes, artichoke hearts, pesto and herbs, and by the taste and texture of the Chēbē crust.  It was a remarkable feast for the eyes and to the tongue.  If this pizza doesn't deserve the 'gourmet' label, nothing does!  And it's all gluten and grain free!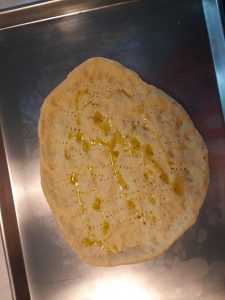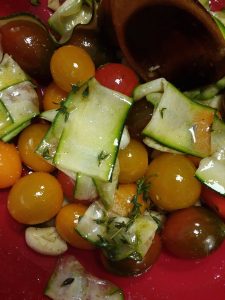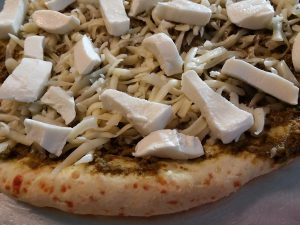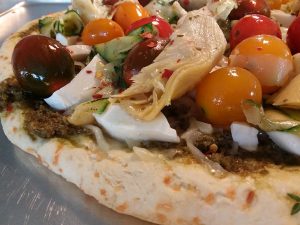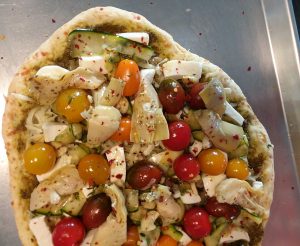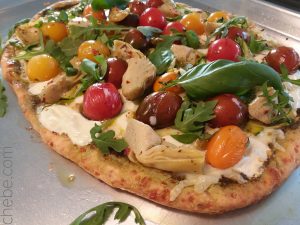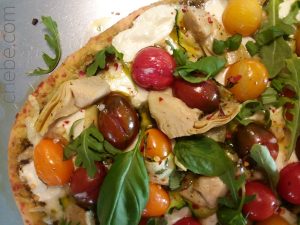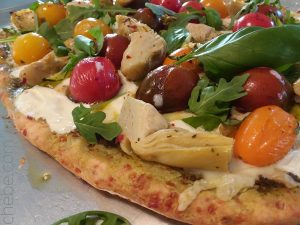 Recipe inspired by Half Baked Harvest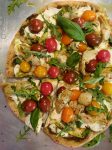 Heirloom Cherry Tomato, Artichoke and Pesto Pizza
Ingredients
Dough:
1

package

Chebe Garlic-Onion Breadstick Mix

4

Tbsp

milk

2

oz

Parmesan cheese,

shredded

2

large

eggs

2

Tbsp

oil
Topping:
4

Tbsp

olive oil,

divided

5

oz

pesto

4

oz

fontina cheese,

freshly shredded

4

oz

mozzarella cheese,

fresh and chopped in pieces

½

medium

zucchini,

peeled (may use a potato peeler)

20

heirloom cherry tomatoes

2

cloves

garlic

sliced thinly

2

tsp

fresh thyme

sea salt

freshly ground black pepper

6

oz

marinated artichoke hearts,

drained and in pieces

2

tsp

red pepper flakes

4 - 5

leaves

fresh basil,

sliced thinly

several

leaves

baby arugula
Instructions
Preheat oven to 425F. In a mixing bowl, add the Chebe mix. With a fork, blend in the milk, cheese, eggs and oil. Mix for a couple of minutes with the fork, then use your hands and knead it until the dough is smooth and well blended.

Flatten the dough with your fist to a diameter of about 12 inches, flipping the dough while working it. Make a ridge around the circumference of the dough with your fingers. (Depending on your preparation surface, you may want to dust the surface with corn meal or gluten free flour.)

Place the dough on a baking pan and dock it (poke holes) with the tines of a fork. Brush the surface and the ridge with 2 Tbsp olive oil.

Bake for about 10 minutes. While the dough is par-baking place the zucchini, tomatoes, garlic, thyme salt and pepper in a bowl. Drizzle with 2 Tbsp olive oil and lightly blend it all.

When the dough is par-baked, remove it from the oven and spread the pesto evenly over the surface. Continue with the zucchini/tomato blend, the artichoke hearts, and dust it all with the red pepper flakes.

Return it to the oven for 10 – 12 minutes. Remove and top with the basil and arugula.

Now it's time to enjoy!
This recipe works great with Chēbē Garlic-Onion Breadstick Mix, but you may also try it with these Chēbē mixes: