Pizza aficionados rejoice! Lamb seasoned with spices that burst with Mediterranean flavor, fresh mozzarella and feta cheeses, sliced tomatoes and red onion, and chopped parsley top off our flavorful gluten and grain free Chēbē dough. Our method of grilling pizza (see below) is so easy and even quicker than an oven-baked version, so if you are experienced in grilling pizza, or if you want to give it a try for the first time, you can't go wrong using Chēbē dough.
But… if you don't have a grill, this is still an incredible pizza! Just follow one of our many baked pizza recipes, e.g. our Green Goddess pizza, using the toppings on this one. You just can't go wrong!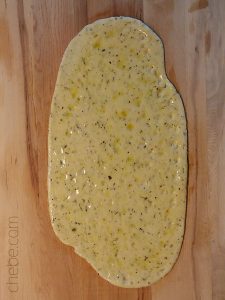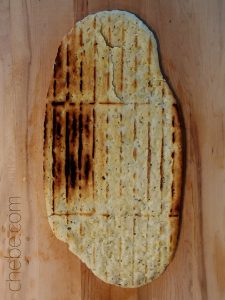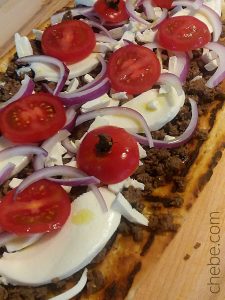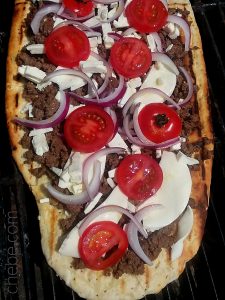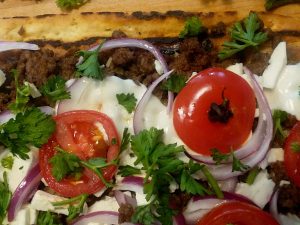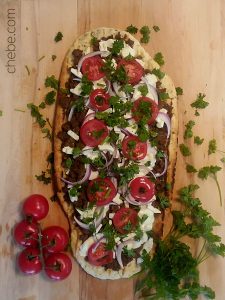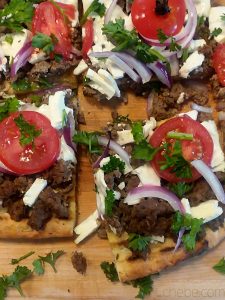 Here's a video 'how-to':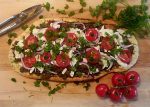 Grilled Mediterranean Lamb Pizza
Ingredients
Toppings
¾

tsp

coriander

ground

¾

tsp

cumin

ground

¾

tsp

cinnamon

ground

¾

tsp

paprika

ground

3

cloves

fresh garlic

crushed and diced

1

lb

ground lamb

4

oz

fresh mozzarella

sliced*

4

oz

fresh feta

crumbled*

½

small red onion

sliced thinly

¾

lb

tomatoes

sliced

½

cup

fresh parsley

chopped

Olive oil for brushing and drizzling
Dough
1

package (7.5 oz)

Chebe Focaccia or other savory Chebe mix

1

oz

grated Parmesan cheese*

4

Tbsp

milk or milk substitute

2

large

eggs

2

Tbsp

cooking oil

e.g. olive oil
Instructions
Blend the spices and garlic with the ground lamb. Fry on a skillet over medium heat until done. Drain fat and set aside.

Preheat the grill to high temperature.**

In a mixing bowl, add the Chebe mix. With a fork, blend in the Parmesan, milk, eggs and oil. Mix for a couple of minutes with the fork, then use your hands and knead it until the dough is smooth and well blended.

On a clean surface, roll the dough to about ¼" thick (you may use a rolling pin or your hands). Be sure that it is in a shape that works with your grill. Brush the top with olive oil.

Turn down the heat of the grill to medium heat. Lay the pizza, oil side down, on to the grill. Close the lid and grill for 3 minutes (don't open the cover!).

With tongs, transfer it to a flat surface (a large cutting board or baking sheet).

Close the grill cover and TURN OFF the center or the side burner (see note below on indirect heating).

Flip the crust on to the cutting board or baking sheet to show the grilled side up. Top with the lamb, cheeses, onion and tomato. Drizzle with olive oil.

Return the pizza to the grill and place it over the indirect heat (the burner which is turned off). Grill with the lid closed for about 7 to 10 minutes, checking occasionally that the crust does not burn. When the bottom of the crust is browned and the toppings are well heated it is ready.

Use the tongs to slide the pizza on to a cutting board. Top with fresh parsley and slice it up!
Recipe Notes
*This recipe can be dairy free if you do not use Chebe Original Mix and you omit the cheeses or use dairy free cheese substitutes.
** Prepare the cheeses, onion, tomato and parsley before putting the pizza on the grill so that you can quickly add them to the pizza.
Regarding the indirect heating method, turn off the center burner(s) if using a 3 or 4 burner grill, and turn off the side burner if using a 2 burner grill. If using charcoal, push the coals to one side.
This is an excellent pizza, so do NOT skip it because you don't have a grill. Use these toppings and follow the directions of any of our oven pizza recipes, such as our Green Goddess pizza.
This recipe works great with Chēbē Focaccia Mix, but you may also try it with these Chēbē mixes: