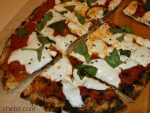 Grilled Chebe Margherita Pizza with Rustic Crust
Ingredients
Crust:
1

package

(7.5 oz) Chebe Pizza Crust Mix

2

Tbsp

olive oil

1

handful of shredded Parmesan cheese,

about 5 oz

2

large eggs

4

Tbsp

milk

1/4

cup

uncooked grits or polenta for rolling the dough.

(If corn is an issue, use gluten free food starch or gluten free flour.)
Toppings:
2

Tbsp

olive oil

1

cup

marinara sauce, (no sugar added)

2

cloves

garlic,

minced

8

oz

fresh mozzarella cheese,

cut into 1/8" slices

20

leaves

fresh basil

Coarse sea salt and freshly ground black pepper to taste
Instructions
Preheat gas grill on high for 10 minutes.

In a bowl and with a fork, blend the Chebe mix with the cheese.

Continue mixing in the milk, eggs, and oil.

Mix for a couple of minutes, then finish off by kneading with your hands until the dough is smooth and well blended. Form into a ball.

Spread the grits on working surface and flatten/shape the dough with hands until it is between 1/8" and 1/4" inch thick. Brush with olive oil.

Reduce grill heat to medium, lay the dough on the grate, greased side down. Close the cover and grill the first side of the crust for 3 minutes. (Keep the cover closed for all 3 minutes!)

With tongs, transfer crust to a flat surface (a large cutting board or baking sheet). Brush the top with olive oil.

Close the grill cover and TURN OFF the center or the side burner (see note below).

Flip the crust to show the grilled side. Cover with the Marinara sauce, minced garlic, and slices of mozzarella.

Return it to the grill and place it over the burner that is turned off (indirect heat). Close the cover and grill until the bottom is browned and the cheese is melted (7 to 10 minutes).

Remove from the grill onto the flat cutting board or baking sheet.

Garnish with sea salt, ground pepper and basil. Slice and enjoy immediately.
Recipe Notes
We do not recommend pizza sauce; instead use a quality Marinara sauce (with no sugar added).
Regarding the indirect heating method, turn off the center burner(s) if using a 3 or 4 burner grill, and turn off the side burner if using a 2 burner grill.
Recipe adapted from Pizza On The Grill, Karmel and Blumer, 2008