Another great grilled Chebe recipe from a satisfied customer!  This one takes a grill pan. If you have one, you'll put it to good use with this recipe.
"Guerrilla cooking at its finest! I don't know if anyone has ever tried grilling Chebe, until now! And it worked really well. Even the toddler ate it, even though he removed all of the good stuff from the top and just ate the bread part." – Gluten Free on $60 A Week
Recipe and photo courtesy of Gluten Free on $60 A Week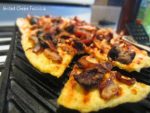 Grilled Chebe Focaccia with Black Olives Mushrooms and Balsamic Onions
Ingredients
Crust
1

package (7.5 oz)

Chebe Original Bread Mix

2

tsp

Italian seasoning

1

cup

cheese -

I used a combination of cheddar and Gorgonzola

2

Tbsp

olive oil

2

eggs

4

Tbsp

water

oil for the grill pan
Toppings
1/3

can black olives

1

small can mushrooms,

drained

1

onion,

sliced

1/4

cup

balsamic vinegar

Kosher salt

Marinara sauce for serving
Instructions
In a bowl and with a fork, blend the Chebe mix with the Italian seasoning and cheese. Continue mixing in the water, eggs, and oil.

Mix for a couple of minutes, then finish off by kneading with your hands until the dough is smooth and well blended. Form into a ball.

Spread dough evenly on a piece of parchment paper, making sure the dough will fit on your grill pan.

Heat some oil in the grill pan on high heat. When the oil starts to smoke, place the dough on the pan and cover it with a cookie tray to help steam a bit. Grill for 6 minutes.

Reduce the heat, remove the cookie sheet and check to make sure the bread isn't burning. If it is, turn off the heat and let the pan cool. Once cool, turn it back on at a medium- low heat. When the dough seems cooked on the bottom, flip it over and turn the heat to low.

In a sauce pan, combine the sliced onion and balsamic vinegar. Cook until the vinegar has reduced to a thick glaze.

Brush some oil on the crust, then spread mushrooms and crushed olives on top of the crust. Pour the onions and balsamic reduction over the toppings.

Grill over low heat until the dough is cooked through (about 20 min).

Sprinkle with Kosher salt. Serve with Marinara sauce.
This recipe works great with Chēbē Original Cheese Bread Mix, but you may also try it with these Chēbē mixes: