"This is one of my favorite ways to make a really quick focaccia. It's incredibly easy and they are very tasty, perfectly sized for individual servings and go great with salads and pasta. I even love to pop the leftovers in the toaster and eat them warmed when I'm hungry for a "bread-like" snack.
They'll make your house smell fabulous while they're baking (and in the toaster!) They also work very well for party snacks. You can make them even smaller and serve them with a few nice wedges of hard cheese and sauteed mushrooms and onions, or roasted garlic, balsamic, olive oil…pesto…there are a lot of options! They're also great for road trip food, and even for camping". –Gluten Free Zen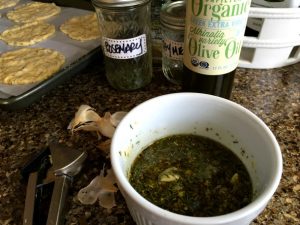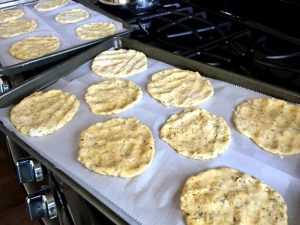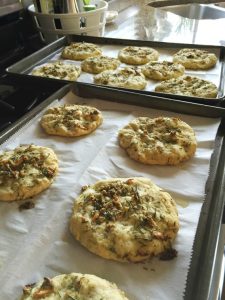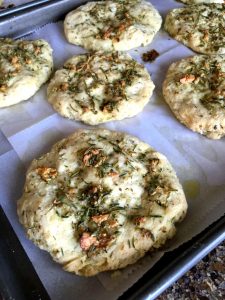 Recipe and photos by Gluten Free Zen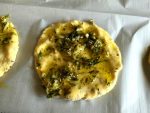 Grain Free Mini Focaccia
Ingredients
For the Dough:
2

packages

Chebe Foccacia Mix

8

Tbsp

water

4

eggs, or aquafaba*

4

Tbls

extra virgin olive oil

1

Tbls

garlic powder

1/2

Tbls

oregano

1/2

Tbls

thyme
For the Topping:
1/4

cup

extra virgin olive oil

6

cloves

garlic,

minced

2

tsp

rosemary,

thyme, and oregano

A generous amount of sea salt

Mix it all together with a fork and set aside.
Instructions
In a bowl and with a fork, blend the Chebe mix with the garlic powder, oregano and thyme.

Continue mixing in the water, eggs, and oil.

Mix for a couple of minutes, then finish off by kneading with your hands until the dough is smooth and well blended. Form into a ball.

Pinch or cut dough into 14 pieces.

Pat out each dough piece onto parchment lined baking sheets (2).

With a pastry brush, generously brush each focaccia with the oil and herb mixture. You will have some leftover which will be used to brush over the top again after baking.

Bake for 20-30 minutes, until golden brown.

Remove from oven and brush with remaining oil/herb mixture. Enjoy!
This recipe works great with Chēbē Focaccia Mix, but you may also try it with these Chēbē mixes: