Carol from Simply Gluten-Free says if you want more exotic flavors in your dining experiences, this is a good way to start! The curry filling is flavorful but not spicy (but if you want heat, add cayenne!), there is a touch of sweetness in the filling from the carrots and raisins (in the chutney) and they are just plain fun to eat!
Recipe and photos by Simply Gluten-Free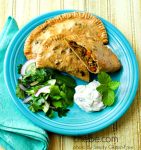 Gluten Free Simply Samosas Recipe
Ingredients
3

Tbsp

coconut oil,

divided

1/2

cup

finely diced carrots

1/2

cup

finely diced onion

3/4

pound

ground chicken

1

tsp

kosher or sea salt,

plus more for the pastry

1/4

tsp

black pepper

1

tsp

curry powder,

more if you want it spicy

3/4

cup

coconut milk

1/2

cup

mango chutney

with raisins

1

pkg

Chebe Garlic-Onion Breadstick Mix

3

large eggs

2

cloves

garlic,

finely minced or grated

1

tsp

ground cumin

1/2

seedless cucumber

1

cup

plain Greek Yogurt (non-fat,

low-fat, regular or dairy free)

1/4

cup

fresh mint leaves,

minced
Instructions
Preheat oven to 375F. Line a baking sheet with parchment paper or a silicon baking mat.
Filling:
Heat 1 Tbsp coconut oil in a large skillet over medium heat. Add the carrots and onion and cook until the onions start to soften, about 5 minutes.

Add the chicken, salt, pepper, and curry powder.

Raise the heat to medium-high and cook, breaking up the chicken with a spatula or potato masher, until no longer pink, 3 to 4 minutes.

Add the coconut milk and chutney. Stir to combine.

Lower the heat back to medium, put the lid on the pan and cook until the liquid is absorbed and the carrots are fork tender, about 5 minutes. Remove from heat and let cool slightly while making the dough.
Dough:
Mix together the Chebe Garlic-Onion Breadstick Mix, 2 eggs, 2 Tbsp of coconut oil (liquefied), 1/4 cup of water, garlic, and ground cumin and stir to combine. The mixture will be clumpy.

Dump the mixture onto a clean work surface and knead by hand until the dough is smooth.

Divide into 4 equal sized pieces.

Place a piece of waxed or parchment paper on a flat surface. Roll one dough portion into a ball, top with another piece of waxed or parchment paper and roll into a 7 inch circle. Lift the top piece of paper from the dough.

Place 1/4 of the chicken mixture on the bottom half of the dough circle, leaving a 1/2 inch border

Fold the dough over the filling forming a half circle. Press the edges together and crimp with the tines of a fork.

Using the bottom piece of paper to help you, gently flip the pastry into one hand, then place it flat (un-crimped side down) on the prepared baking sheet. Repeat with remaining dough and filling.

Beat the remaining egg with 1 tsp water and brush on top of the pastries. Sprinkle with a little salt and bake for 40 minutes or until the pastries are golden brown.
Riata
While the pastries are baking, make the riata. Peel the cucumber and grate it into a paper towel or kitchen towel. Squeeze out the excess liquid and place grated cucumber in a mixing bowl.

Add the yogurt and mint leaves and stir to combine. Season to taste with salt and pepper.

Cover with plastic wrap and store in the refrigerator until ready to serve.
This recipe works great with Chēbē Garlic-Onion Breadstick Mix, but you may also try it with these Chēbē mixes: