"If you are looking for an easy recipe that feeds a crowd that is a little out of the ordinary, give these Gluten Free Empanadas a try. They can be served as an appetizer, part of a buffet, or as a main course. They can also be made ahead and re-heated just before serving, perfect for stress-free entertaining.
If you don't have a big crowd to feed or really want to get a jump on your entertaining workload, the empanadas can be baked ahead and frozen, just let them thaw and re-heat in the oven at 350 degrees for a few minutes until hot."- Carol Kicinski, Simply Gluten-Free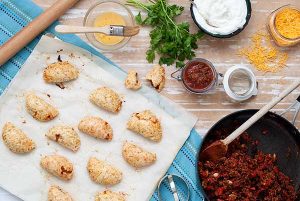 Recipe and photos courtesy of Simply Gluten Free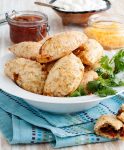 Gluten Free Empanadas
Ingredients
Filling:
1/2

pound

ground sirloin

1

red pepper,

seeded and diced

1/2

small onion,

diced

1

clove

garlic,

minced

3

Tbsp

raisins

1

Tbsp

chili powder

1

tsp

kosher or fine sea salt

4

Tbsp

tomato paste

2

Tbsp

slivered almonds

2

Tbsp

black olives,

chopped

1/2

cup

canned tomatoes and chilies,

drained, such as RoTel
Dough:
2

packages (7.5 oz)

Chebe Focaccia Mix

4

Tbsp

olive or vegetable oil

2

cups

shredded mild cheddar cheese -

omit for dairy free

5

large eggs,

divided

3

Tbsp

sugar

8

Tbsp

milk, milk substitute, or water
Instructions
In a large skillet, brown the ground sirloin over medium-high heat. Remove from the pan and set aside. Reduce heat to medium; add the pepper, onion, garlic, raisins, chili powder, and salt to the pan and cook until the vegetables are soft, about 8 minutes. Add the tomato paste and cook, stirring for 1 minute. Add the ground sirloin back to the pan along with the almonds, olives, and canned tomatoes and chilies. Cook until heated through, about 3 minutes. Let cool in the pan.

Preheat oven to 375F. Line 2 baking sheets with parchment paper or silicon baking mats.

In a large mixing bowl, combine the Chebe Focaccia Mix, oil, cheese (if using), 4 eggs, sugar, and milk. Mix with a fork. Dump the mixture onto a clean work surface and knead until the dough is smooth.

Divide the dough into 2 equal portions. Place a piece of waxed or parchment paper on the work surface, place one portion of dough on top, cover with another piece of waxed or parchment paper, and roll into a rectangle 1/8 of an inch thick. Cut the dough into 3-inch circles using a cookie or biscuit cutter. Repeat with the remaining portion of dough. If needed, gather up the scraps and re-roll.

Beat the remaining egg and brush on the dough circles. Place a heaping tablespoon of the meat filling on the dough circles and fold the dough over forming a half circle. Press the edges together and brush with more beaten egg.

Bake for 30 minutes or until golden brown. Serve hot or warm.
Recipe Notes
These can be baked ahead and frozen, just let them thaw and re-heat in the oven at 350 F for a few minutes until hot.
Recipe courtesy of Simply Gluten Free
This recipe works great with Chēbē Focaccia Mix, but you may also try it with these Chēbē mixes: