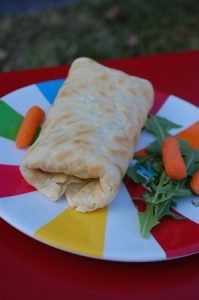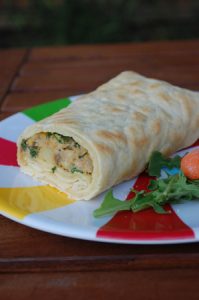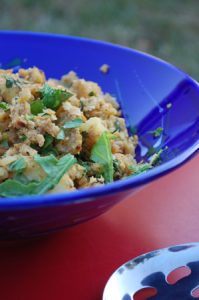 Recipe and photos courtesy of Book of Yum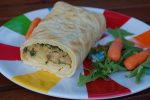 Gluten Free Dairy Free Chickpea Breakfast Burrito
Course:
Breakfast, Main Course
Ingredients
Vegetarian soy-free Chickpea Breakfast Burrito Filling
1

Tbsp

olive oil

1/2

cup

diced onion

generous handful or two of grated carrot

2

medium yellow potatoes,

cooked and cubed

1

can chickpeas -

drained, rinsed and mashed with a potato masher

generous handful or two of fresh arugula,

cleaned and chopped

3

Tbsp

nutritional yeast

pepper

herbes de Provence

herbamare or your favorite salt

1

Tbsp

liquid mustard

(I like Annie's)

3

Tbsp

tahini,

whisked with water to make a smooth sauce

1

tsp

coconut aminos

or wheat-free tamari if soy is not an issue
Gluten-free Dairy-free Chebe Burrito Tortilla Recipe
1

package Chebe All Purpose Bread Mix

2

eggs

4

Tbsp

dairy-free or regular milk

2

Tbsp

olive oil
Instructions
Filling Directions
Heat olive oil in saute pan on medium and add diced onion. After it turns translucent, add grated carrot and cook a minute or two. Move onion and carrot to the edge of the pan and add cubed, cooked potatoes to the center of the pan and brown, turning once.

Add dry seasonings (herbs, nutritional yeast, pepper, herbamare or salt.) When potatoes are nicely browned, fold in mashed chickpeas. Taste and add additional dry seasonings to taste.

Drizzle liquid mustard over the potatoes and chickpeas and fold in evenly. Drizzle in tahini sauce. Combine thoroughly and let brown. Then add chopped arugula and sprinkle with coconut aminos, folding into the potato-chickpea mixture.

When the arugula has wilted, taste and adjust seasonings as desired. Use as a filling for a gluten-free, soy-free vegan breakfast burrito or on its own as a hearty main dish.
Chebe Tortilla Directions
Combine all ingredients and mix thoroughly. Knead the dough with hands for a few minutes until you have a smooth, round ball of dough. Separate into four balls of dough for large tortillas or six to eight balls if you are using a tortilla press for smaller tortillas.

Place a ball of dough between two layers of parchment paper (NOT wax paper- it sticks) and roll into a thin tortilla. Heat a pan (nonstick, cast iron, etc.) on medium and brown tortilla on each side until lightly browned.

Place warm tortilla on a plate and continue to make the rest. If you are using them for burritos, fill each tortilla while still soft and warm and fold around your ingredients. It will cool and stay in the shape you folded it into. Don't let the tortillas cool and harden without filling them if you plan to use them for burritos.
Recipe Notes
Would be good served with hot sauce or sirachi sauce to taste.
Recipe courtesy of Book of Yum
This recipe works great with Chēbē All Purpose Mix, but you may also try it with these Chēbē mixes: