"I'm a sucker for a good burger. I am also a sucker for turning classic recipes into burgers. Chicken Parmesan is a dish I like – sort of. I actually love all the elements: chicken, breadcrumbs, cheese, marinara sauce; it's just that it can get too soggy for my taste when cooked the classic way. That's why I thought "why not deconstruct it a bit?" Why not indeed! And if I were to deconstruct it how about taking it one step further and reconstructing it as a burger?
The recipe started to take form in my head, I just needed the perfect bun for my burger. I decided to make my own bun for my chicken-Parmesan-reinvented-as-a-burger burgers. Chebe focaccia mix seemed like the perfect way to go – simple, quick, and with the herbs and Parmesan, perfect!" – Simply Gluten-Free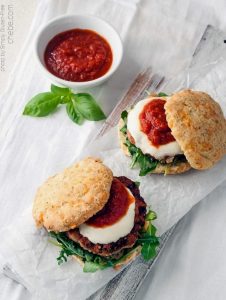 Recipe and photos by Simply Gluten-Free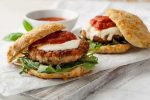 Gluten Free Chicken Parmesan Burgers
Ingredients
1

(7.5 ounce) box Chebe Focaccia Mix

4

Tbsp

olive oil,

divided

2

large eggs,

lightly beaten (may use aquafaba*)

1 1/3

cup

grated Parmesan cheese (or dairy free version**),

divided

1/4

cup

water

1/2

cup

gluten free prepared marinara sauce

1/3

cup

gluten free bread crumbs

1

pound

ground chicken

3

cloves

garlic,

minced or grated

1

small white or yellow onion,

minced or grated

Kosher salt

Freshly ground black pepper

1

tsp

dried oregano

4

slices

fresh mozzarella cheese, (or dairy free version**)

about 1/4 inch thick

1

cup

baby arugula
Instructions
Preheat oven to 375F. Line a baking sheet with parchment paper or a silicon baking mat.

Combine the Chebe Focaccia Mix with 2 Tbsp olive oil, 2 eggs, 1 cup parmesan cheese, and 1/4 cup water. Stir to combine. Dump the mixture onto a clean work surface and knead until smooth. Divide into 4 equal sized pieces. Roll each portion into a ball, place on the prepared baking sheet and flatten into disks about 4 inches across. Brush the tops with olive oil and bake for 20 minutes or until the buns are browned and cooked through.

While the buns are baking, make the chicken burgers.

Heat the marinara sauce and keep warm.

Combine the remaining 1/3 cup parmesan with the breadcrumbs and place on a plate.

Combine the chicken with the garlic, onion, 1 teaspoon salt, 1/2 tsp pepper, and the oregano. Divide into 4 equal sized patties. Coat the burger patties with the breadcrumb/cheese mixture, pressing the crumbs lightly into the burger.

Heat 2 Tbsp olive oil in a large skillet with a lid over medium heat. Fry the burgers in the hot oil until browned and crispy on the bottom, about 4 minutes. Flip, top with the mozzarella cheese slices, cover the pan and cook until the bottom is crispy, the burger cooked through and the cheese melted, 3 – 4 minutes.

Cut the parmesan buns in half, place a good handful of arugula on the bottom half, top with a chicken burger, spoon on some sauce and place the top of the bun on top. Serve immediately.
Recipe Notes
*For an egg-free version, use 6 Tbsp aquafaba.
**Dairy free cheese works great with Chēbē!
Recipe by Simply Gluten-Free
This recipe works great with Chēbē Focaccia Mix, but you may also try it with these Chēbē mixes: