"These Chebe Everything bagels are crunchy on the outside and chewy on the inside, very reminiscent of their glutenous counterparts we once knew and loved. You can absolutely make a couple of batches because these freeze really well. If frozen, I suggest popping them in the microwave for 15-20 seconds to loosen up the bread for slicing and then toasting". – Minneceliac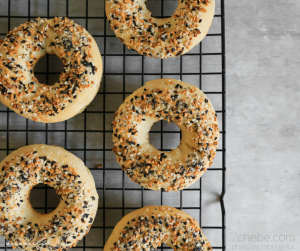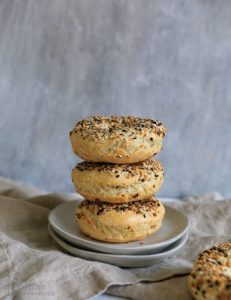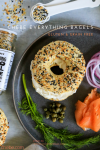 Garlic Onion Everything Bagels
Ingredients
1

package Chebe Garlic-Onion Breadstick Mix

2

eggs,

room temperature

2

Tbsp

olive oil

4

Tbsp

milk

or dairy-free substitute

2-3

Tbsp

Trader Joe's Everything But The Bagel Sesame Seed Seasoning Mix

or homemade seasoning
Instructions
Preheat oven to 375F.

Blend Chebe Mix with 2 Tbsp olive oil (no cheese) and 2 room temperature eggs.

Slowly add in 4 Tbsp milk/milk substitute.

Knead dough well. You can pour a little olive oil on your hand if dough is too sticky.

Separate dough into six even balls. I like to make the dough into an even loaf. Cut that in half and then cut each half into three even sections. If you have a kitchen scale, you are going for about 64 grams (give or take) per dough ball.

Flatten balls slightly. Stick finger or thumb through center to make a hole in the middle to make bagel shape.

Place in donut pan and form around the center part. These will expand quite a bit during baking. If you don't have a donut pan, then you can form by hand and place on a parchment paper lined baking sheet.

After all the bagels are shaped, then dip the top in an egg wash (1 egg + 1 Tbsp warm water). You can also use a brush if you have one.

Dip the top of the bagel in the Everything seasoning mix.

Bake for 23-25 minutes until slightly golden brown.

Slice and serve with your favorite toppings!
This recipe works great with Chēbē Garlic Onion Breadsticks Mix, but you may also try it with these Chēbē mixes: