We ran across this old recipe torn from a magazine (remember when that was how you saved recipes?). Sorry, we do not know who it's from.  But it used 'any store-bought pizza dough" as the base.  So… since anything that pizza dough can do Chēbē can do (better), we came up with our own version of egg in a nest. We used freshly shredded sharp white cheddar cheese, summer-time cherry tomatoes, baby arugula and baby spinach, and chives from the garden. Awesome ingredients equal awesome flavor! This recipe proves it!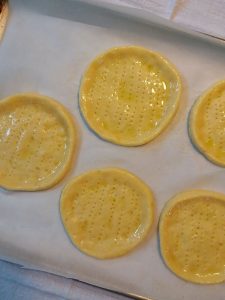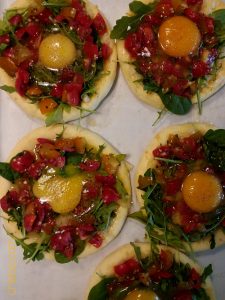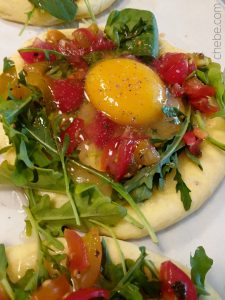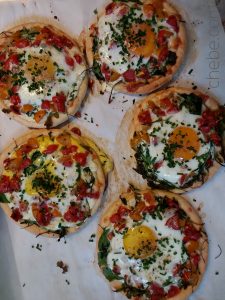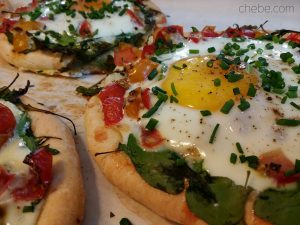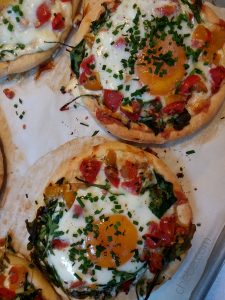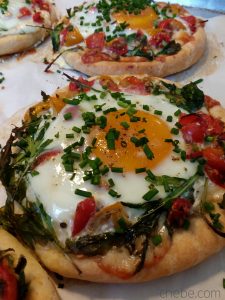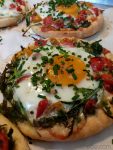 Egg In A Nest
Ingredients
Tomato mixture:
6

oz

cherry tomatoes,

quartered

1

Tbsp

olive oil

1

tsp

oregano

Sea salt and freshly ground pepper to taste
The rest:
1

package (7.5 oz)

Chebe Original Cheese Bread Mix

7

eggs

(divided 2:5)

6

oz

sharp white cheddar cheese, freshly shredded

(divided: 2:4)

4

Tbsp

water,

or milk if using other Chebe Mixes

2

Tbsp

oil (since you already have it out, use the olive oil)

2

Tbsp

olive oil for brushing

40-50

leaves

baby greens (arugula, spinach, chard, and/or kale)

¼

oz

chives

finely chopped (scallions work, too)
Instructions
Tomato mixture:
Blend tomatoes, oil, oregano, salt and pepper in a small bowl. Set aside.
The rest:
Preheat oven to 425F. In a mixing bowl, add the Chebe mix. With a fork, blend in the milk, 2 oz. of cheese, 2 eggs and 2 Tbsp oil. Mix for a couple of minutes with the fork, then use your hands and knead it until the dough is smooth and well blended.

Separate the dough into 5 equal pieces. (Each piece will weigh about 3 oz.)

With your hands, press each piece of dough on a smooth surface. Shape into 5" rounds and form a small ridge around the circumference.

Place the dough on a baking sheet (parchment paper optional). Poke holes (dock) the surface of the dough with the tines of a fork. Brush with olive oil. Bake for 12 minutes.

Remove from oven and spread equal amounts of the remaining cheese evenly over each of the 5 pieces.

With the greens and then the tomato mixture, place mostly around the outer part of the rounded crust. This forms the nest.

Drop an egg in the center of each nest and season with salt and pepper.

Return to the oven and bake for 18 – 20 minutes or until the egg is cooked to your desire.

Remove from the oven and top with the chives. All done! Take a pic and share it with your friends!
This recipe works great with Chēbē Original Cheese Bread Mix, but you may also try it with these Chēbē mixes: