Shakshuka is a Middle Eastern dish of eggs poached in tomato sauce, onions, peppers and seasonings. We came upon a recipe that combines it with Focaccia dough and knew right away that using Chēbē Focaccia mix makes it easier AND gluten and grain free!  This is a meal just right for breakfast, brunch, lunch or dinner, and it REALLY IS easy with Chēbē!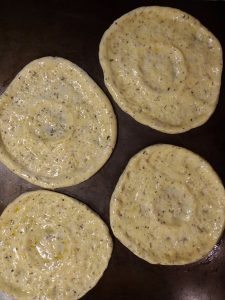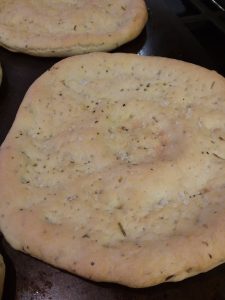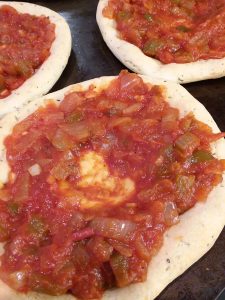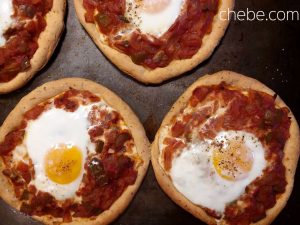 Recipe adapted from Food52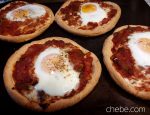 Chebe Shakshuka Focaccia
Ingredients
Shakshuka:
2

Tbsp

oil

2

medium yellow onions,

chopped

3

cloves

garlic,

crushed and chopped

1

green bell pepper,

cored, seeded, and chopped

1

jalapeño,

cored, seeded, and chopped

1

can (14 oz)

crushed tomatoes

1

bay leaf

1

tsp

sugar

1/2

tsp

coarse sea salt

1

tsp

paprika

1

tsp

cumin,

ground

1/2

tsp

black pepper,

freshly ground

1/2

tsp

caraway,

ground

4

eggs
Focaccia Dough:
1

package (7.5 oz)

Chebe Focaccia Mix

4

Tbsp

Greek Yogurt,

milk or milk substitute

2

large eggs

2

Tbsp

oil
Instructions
Shashuka:
Heat the oil in a skillet, and then add the onions and sauté on medium heat for about 5 minutes. Add the garlic, jalapeño and green peppers, and continue to sauté for another 5 minutes.

Stir in the crushed tomatoes, bay leaf, sugar, salt, paprika, cumin, black pepper and caraway and simmer on low heat, stirring occasionally, for 15 to 20 minutes.
Focaccia:
Preheat oven to 425F. In a mixing bowl, add the Chebe mix. With a fork, blend in the yogurt, eggs and oil.

Mix for a couple of minutes with the fork, then use your hands and knead it until the dough is smooth and well blended. Separate the dough into 4 equal pieces.

With your hands, flatten each piece to about 6 or 7 inches in diameter. With your fingers, make a small ridge around the circumference of the dough. With your thumb, make an indentation in the center of each piece (this makes room for the egg).

Place each Focaccia on a baking tray. Dock the dough by thoroughly poking the surface with the tines of a fork. Brush each with olive oil and sprinkle with coarse sea salt. Bake for 10 minutes. (Check half way through for bubbles in the crust. If you see one, poke it down with the tines of the fork.) Remove from oven. Increase the oven temperature to 450F.
Bring it Together:
Cover the Focaccia with the shashuka, using about ½ cup on each one. Clear a spot where the center indentation is and crack an egg in that spot. Season the egg with salt and pepper.

Return to the oven for 10 - 12 minutes or until the egg is cooked.
Recipe Notes
You may serve the rest of the shashuka with the meal, or save it in the refrigerator for several days. It goes great with rice and eggs!
Recipe adapted from Food52
This recipe works great with Chēbē Focaccia Mix, but you may also try it with these Chēbē mixes: