Crescent rolls are a fun way to enjoy the deliciousness of gluten free / grain free Chēbē Bread. Flatten, cut and roll the dough and 20 minutes later out come golden brown crescents. Add a dollop of jam or butter and enjoy with a nice cup of coffee. Now that's a breakfast scene anyone would enjoy!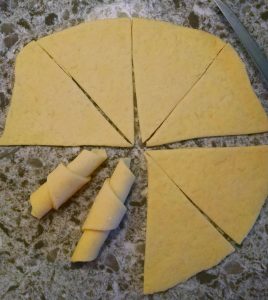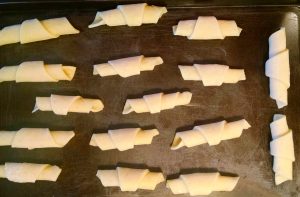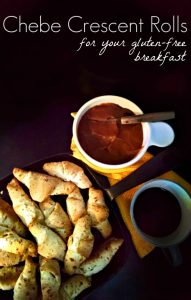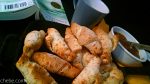 Chebe Crescents
Course:
Breakfast, Side Dish
Ingredients
1

package (7.5 oz.)

Original Chebe Bread Mix

2 ½

oz

shredded Parmesan cheese or similar

2

large eggs

4

Tbsp

water or milk

2

Tbsp

oil or melted butter
Instructions
Preheat the oven to 375F.

Prepare dough according to package directions.

When the dough is smooth and well blended, divide in two pieces (about 8 oz each).

On a clean surface, with the heel of your hand, press one of the pieces into a circle. (You may wish to dust the surface of the dough with a gluten free flour.)

With a rolling pin, continue pressing the dough outward until it is about 1/8" thick, or about 8" diameter.

With a knife, cut like a pie into 8 pieces.

With each of the 8 triangles, starting from the broad (outside end), roll loosely toward the center.

Place these 8 pieces on a baking pan and repeat the process with the other half of the dough. Place the crescent on the pan with the tip of the triangle resting on the pan so that it does not open up while baking.

Place the baking pan with the 16 crescents into the oven and bake for about 20 minutes. Keep an eye on them toward the end. Depending on the oven, they may need an extra few minutes.
Recipe Notes
You may freeze any baked crescents and reheat them for 5 – 7 minutes at a high temperature.
This recipe works great with Chēbē All-Purpose Bread Mix, but you may also try it with these Chēbē Mixes: