Fresh berries, Chēbē shortbread, and vanilla bean ice cream all come together in this amazing berry pot pie! This remarkable dessert can be pulled together in short order, and all eyes at the table will gawk when a tray of these lovely mini pies is placed in front of them. Easy, scrumptious and memorable… that's what you want!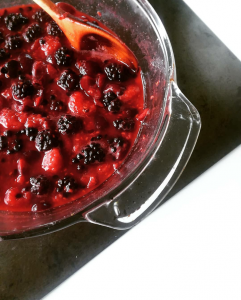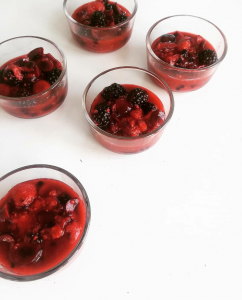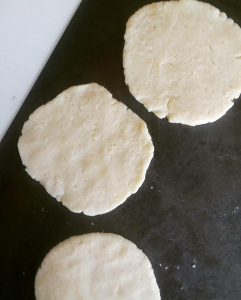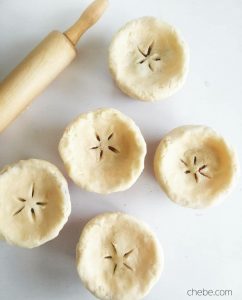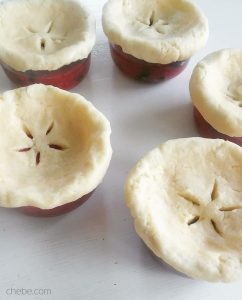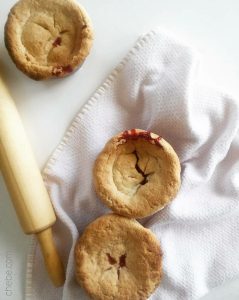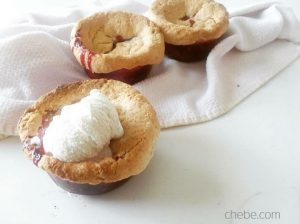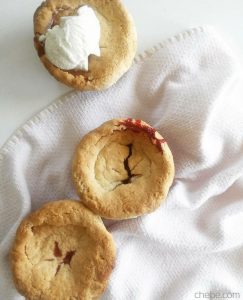 Recipe adapted from Fifteen Spatulas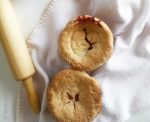 Berry Pot Pie
Ingredients
Filling:
5

cups

fresh berries: any combination of raspberries

blackberries, pitted cherries (ok, that's a drupe not a berry), blueberries, sliced strawberries, etc. (frozen berries also work)

1

Tbsp

corn starch

2

Tbsp

lemon juice

Zest of one lemon

½

cup

sugar

¼

tsp

cinnamon

Vanilla bean ice cream

for topping the final product
Dough:
1

package (7.5 oz)

Chebe Mix (All Purpose or Original Mix)

8

Tbsp (1 stick)

butter,

softened

½

cup

sugar

1

egg or aquafaba*
Instructions
Filling:
In a bowl, mix the berries, corn starch, lemon juice, lemon zest, sugar and cinnamon. Let it sit at least 30 minutes, stirring a few times.

Preheat the oven to 375 F.

Using six 4-oz ramekins or oven-safe glass bowls, fill each almost to the top. (Adjust accordingly if your ramekins are a different size.)
Dough:
Blend the butter and the sugar in a bowl. Add the egg and beat together until creamy.

With a fork or mixing spoon, gradually add Chebe mix and blend until it can form a ball. Chill dough in the refrigerator for about 20 minutes.

Divide the dough into 6 equal pieces and with a rolling pin, flatten each piece into a round so that the diameter is about ½" more than the rim of the bowl of fruit (about 5" diameter).
Bringing It Together:
Place the dough over the fruit and lightly crimp it around the edges. With the tip of a knife, pierce a few holes in the surface of the dough to allow the heat to escape.

Place the bowls on a sheet pan and bake for 20 – 25 minutes until the tops are golden.

Remove and, allow to cool for 10 minutes. Top with ice cream and dig in! The combination of these flavors is a taste buds' delight!
Recipe Notes
*For an egg-free version, use 3 Tbsp aquafaba to replace one egg.
If you can't eat it all in one sitting, or if you want to make them for a future day, they freeze well. Keep them in an airtight container in the freezer. Thaw before serving. Pop them in the microwave if you want to warm them.
Recipe adapted from Fifteen Spatulas