These empanadas are sooo tasty!  Filled with ground beef, potato, and beef chorizo that are perfectly seasoned with onions, garlic, paprika and more.  And the chopped green olives give it an extra zing!
'Empanar'… is Spanish for 'to wrap in bread'. Empanadas originated in Spain and Portugal and are found in all of the countries colonized by them. They can be filled with meats, vegetables, and even fruits!
Chēbē dough has the perfect consistency for this Latin pastry as it can be rolled out and folded without breaking. So, use your favorite empanada recipe, find some online that look appealing, or follow the awesome recipe below.  Gluten and grain free Chēbē will wrap any filling you fancy!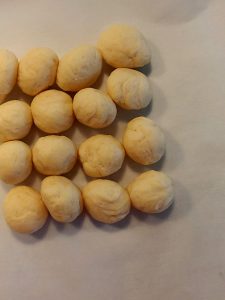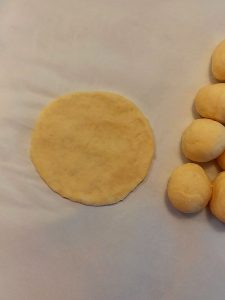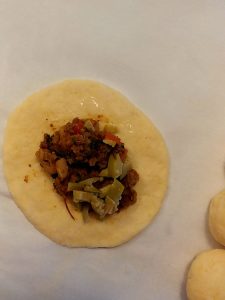 Here's a good video that demonstrates how to fold an empanada. But be sure to wet the edges of the dough with water so that it has a good seal when crimping.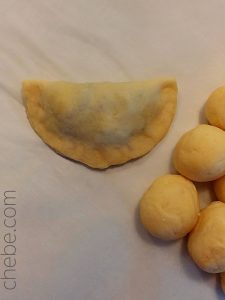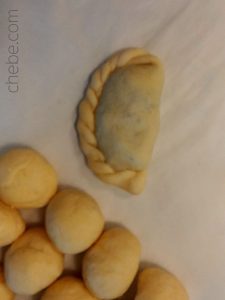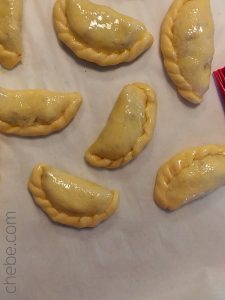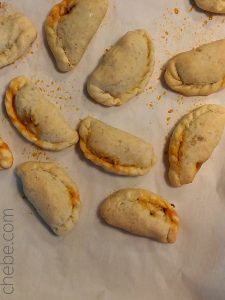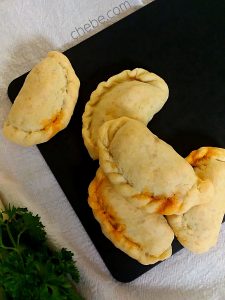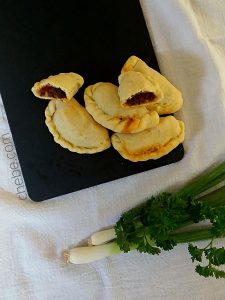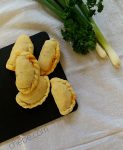 Beef and Chorizo Empanadas
Ingredients
Filling:
½

lb

ground beef

2

oz

beef chorizo,

fresh (uncooked)

Salt and pepper

½

small onion,

diced

1

small potato,

finely diced

2

cloves

garlic,

crushed and chopped (may use ½ tsp garlic powder)

1

tsp

thyme

1

tsp

oregano

2

tsp

paprika

1

tsp

cumin

1/8

tsp

cayenne

1

tomato,

diced

½

cup

broth

(may use water)

1

scallion,

chopped

¼

cup

parsley,

chopped

4 – 5

green olives,

diced
Dough:
1

package (7.5 oz)

Chebe All Purpose Mix

1

oz

grated Parmesan cheese

(optional)

2

eggs

large

4

Tbsp

milk or milk substitute

2

Tbsp

oil

Small bowl of water for wetting the empanada dough

Olive oil or egg wash to brush the empanadas
Instructions
Filling:
Blend the ground beef and chorizo in a bowl. Season with salt and pepper.

Fry in a skillet over medium heat for about 10 minutes or until browned.

Add the onions, potatoes, garlic, thyme, oregano, paprika cumin cayenne, tomato and the broth. Stir and fry for another 10 minutes until the potatoes are tender. Taste for salt and pepper and add if necessary.

Turn off the stove and stir in the scallions and parsley. Set aside and allow to cool slightly before filling the dough.
Dough:
Place the Chebe mix in a bowl. With a fork, blend in the Parmesan, eggs, milk and oil. Mix for a couple of minutes with the fork, then use your hands and knead it until the dough is smooth and well blended.

Divide into 16 equal pieces. (If you have a scale, each piece should be just under one ounce.) On a clean surface, use your fingers to press the dough ball into a circle about 4" in diameter.
Empanada:
Preheat the oven to 375F.

Place the dough circle in the palm of your hand and place 1 Tbsp of beef filling in the center. Add a small amount of the olives to this.

Dip your finger in the water and wet the outer edge of the circle. Fold the dough over the filling to make a half circle. Crimp and fold the edges as you see in the video. (Be sure keep the filling from the edges so that the dough can be sealed properly.)

Repeat this with the remaining dough balls and filling. Place the empanadas on a baking tray. Parchment paper may be used but it is not required. Space the empanadas so they are not touching each other.

Brush the tops of the empanadas with olive oil or egg wash. Place in the oven and bake for 15 – 18 minutes. Remove, let cool for a few minutes, and enjoy!
Recipe Notes
The filling can be made a day or two ahead of time if it is more convenient.
You may freeze the empanadas and reheat them later.
Consider making a double amount of the filling. What is left over can be refrigerated for later. Use it in another batch of empanadas, or serve it with rice and a salad for a quick weeknight meal. Or, add tomato sauce to make a great Bolognese for your next pasta dish. (Whatever you do with it, you have your next meal covered!)
This recipe works great with Chēbē All Purpose Mix, but you may also try it with these Chēbē mixes: