"I've written before about my fear that I would never get to eat the Eastern-European Jewish foods I grew up with again when I went gluten-free. Kasha varnishkes, matzo balls, challah, potato knishes. I found gluten-free recipes online for most of the foods I missed, but the one thing I couldn't find anywhere was a recipe for a gluten-free knish. When I started this blog, I gave you my word that I'd create a knish recipe. Mission accomplished: A delish knish!
This recipe gives instructions for rectangular knishes, which are the easiest to make. However, if you're interested in making them round, simply use a 3-inch biscuit cutter to make circles instead of rectangles." – Gluten-Free Bay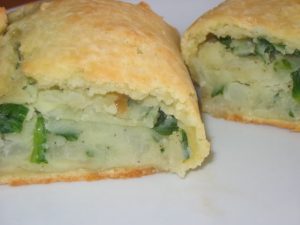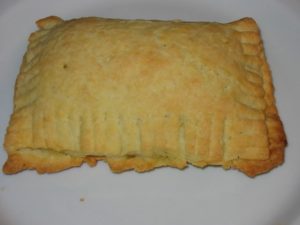 Recipe and photos by Gluten-Free Bay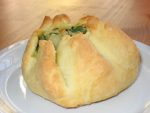 Spinach Potato Knish
Ingredients
Dough:
1

package (7.5 oz)

Chebe All-Purpose mix

2

large eggs

2

Tbsp

oil

4

Tbsp

milk

liquid, milk substitute, or water

3

Tbsp

beaten egg,

set aside
Filling:
1

cup

fresh baby spinach,

chopped finely

1

large baking potato

1

Tbsp

vegetable oil

1

Tbsp

butter

1/2

large onion

1/2

tsp

ground black pepper

1 1/2

tsp

kosher salt

1

large egg

Cooking spray
Instructions
Dough Instructions:
Using a fork or a dough mixer, blend the contents of the Chebe mix packet in a bowl with 2 Tbsp oil or softened butter and 2 eggs. Add 5 Tbsp of milk, milk substitute, or water while continuing to mix. Knead dough with hands until all ingredients are fully blended and the dough is smooth. Roll dough into a ball. Using a rolling pin, roll dough into a thickness of 1/4 inch or less. Using a knife or pastry scraper, cut into 5 x 7 inch rectangles. (Scraps of remaining dough can be kneaded together and re-rolled to create additional rectangles.)
Filling Instructions:
Peel potato, cut lengthwise and then into 2 inch slices. Bring a pot of water to a boil. Add 1 tsp of kosher salt. Add potato pieces to water, boil until tender. Turn off the heat. Drain potatoes and return to pot. Mash thoroughly. Add chopped spinach to potatoes, and mix until combined. Cover with lid to keep warm.

In a frying pan over low heat, add butter, oil and onion. Cover and cook 10-15 minutes or until soft, then remove cover and cook until the onions begin to turn golden brown. Remove from heat. Add onions to mashed potato/spinach combination, as well as pepper and 1/2 tsp of kosher salt. Stir in one egg. Use wooden spoon or masher to combine.
To Assemble:
Using a pastry scraper, carefully transfer each rectangle of dough to the greased baking sheet. Place a small amount of the mashed potato mixture (approximately 2-3 Tbsp.) in the center of each rectangle, arranging it so that there is at least a 1 1/2 inch perimeter of dough around the filling on all sides. Make absolutely sure that no filling or liquid gets on the perimeter of the dough, as it will keep the knish from sealing. Fold dough over widthwise (shorter side to shorter side). Use a fork to crimp the edges of the dough. Make sure all the edges are sealed, and patch any holes with small scraps of dough.

Brush the 3 Tbsp of oil or egg you have set aside over the top of each knish. Bake for 20-25 minutes, or until golden. Eat while hot or warm. Refrigerate or freeze leftovers and reheat in the oven (without defrosting).
Recipe Notes
Recipe and photos by Gluten-Free Bay
Chēbē baking mixes, with the exception of Original Chēbē Cheese Bread Mix, are certified OU Kosher.