When making Margherita pizza, fresh is definitely best. There are few ingredients so use fresh basil, fresh mozzarella and quality marinara sauce (make your own, or use a store bought sauce that contains natural ingredients with no added sugar). Making pizza in a cast iron skillet gives the crust a perfect combination of crispy and chewy. And, it's FAST! Only about a dozen oven-time minutes is all you need. You can actually make this pizza faster than it would take to have one delivered, and the taste is incomparable!  If you have never made pizza in an iron skillet then watch out, it may become your new favorite method!
Naturally gluten and grain-free Chēbē dough handles beautifully in the skillet, and has a flavor and texture that matches the best pizzas out there. You don't need to be gluten/grain-free to enjoy Chēbē; just ask around!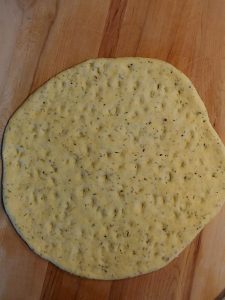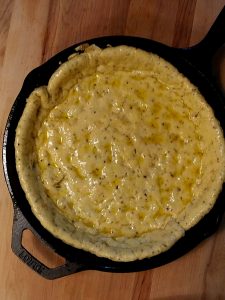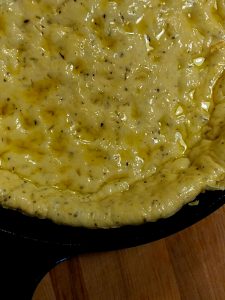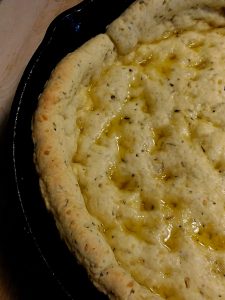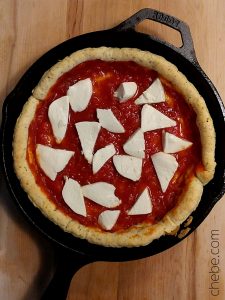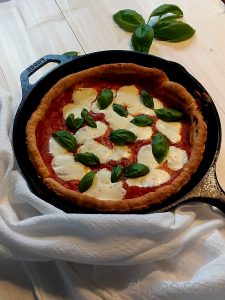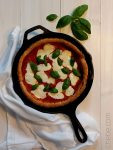 Skillet Pizza Margherita
Ingredients
1

package (7.5 oz)

Chebe Pizza Crust Mix or other savory Chebe variety

1

oz

Parmesan cheese,

grated

2

eggs,

large

4

Tbsp

milk or milk substitute

6

Tbsp

olive oil

5

oz

marinara sauce* (or about 10 tablespoonfuls)

4

oz

fresh mozzarella cheese

sliced or cut into chunks

Fresh basil leaves,

about 12 to 15
Instructions
Preheat oven to 500F with a 9 or 10 inch cast iron skillet (or other oven safe skillet). Once oven reaches temperature, keep the skillet in for another 10 or 15 minutes, or until you are ready to add the dough.

In a mixing bowl, add the Chebe mix. With a fork, blend in the Parmesan, milk, eggs and 2 Tbsp oil. Mix for a couple of minutes with the fork, then use your hands and knead it until the dough is smooth and well blended.

On a clean surface, roll the dough to about 10 or 11 inches in diameter (you may use a rolling pin or your hands). With the tips of your fingers, make depressions all over the surface of the dough.

Remove the skillet from the oven and coat with 2 Tbsp oil using a brush or paper towel. Place the dough carefully into the skillet (listen for the sizzle!) pressing the edges up the side and inch or so. Brush 2 Tbsp oil all over the surface, including the edges.

Place the dough in the oven for 4 minutes. Remove from the oven and top with the marinara and mozzarella. Return to the oven for about 8 minutes or until the crust is browned and the cheese is melted.

Let the pizza cool 10 or so minutes before adding the basil. Slice and serve!
Recipe Notes
*Be sure to use a marinara sauce that has no added sugar. The sugar can burn and darken under high oven temperature. 
For a dairy free version, use your favorite dairy free cheese.
This recipe works great with Chēbē Pizza Crust Mix, but you may also try it with these Chēbē mixes: