Yes, Chēbē does loaves! One small package is all you need to make this 12 oz, 6″ diameter loaf. Very lightly sweetened with honey, this is a gluten and grain free loaf with a delightful taste and aroma. (You can make it dairy-free, too!)
And, this is a no-yeast bread, so it's fast! From box to cooling rack in 40 minutes! Tear, or slice it and serve with butter or honey for that primal sensation of eating fresh, warm, flavorful bread. And, what you don't finish of out of the oven can be sliced, frozen and warmed in the toaster!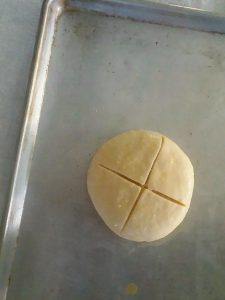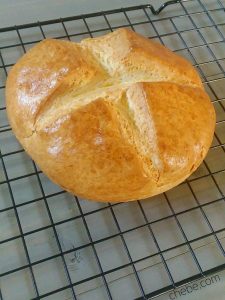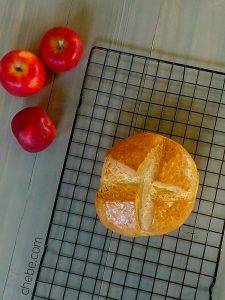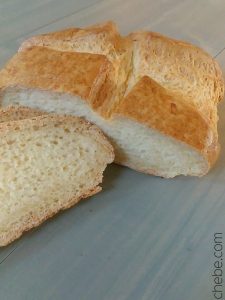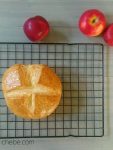 Round Loaf
Ingredients
1

package (7.5 oz)

Chebe All-Purpose or Original Cheese Bread

1

tsp

fresh baking powder

1

Tbsp

sugar

5

Tbs

milk or milk substitute

or water if using Original Mix

1

egg,

large – room temperature

2

Tbsp

cooking oil

2

tsp

honey

Egg wash (1 egg + 2 Tbsp water blended)
Instructions
Preheat oven to 375F

Blend the Chebe mix with the baking powder and sugar. With a fork, continue adding and blending the milk, egg, oil, and honey.

After thoroughly blending, use your hands to knead the dough until it is smooth*.

Shape into a rounded patty of about 5" diameter by 1" high**. Score the loaf making 2 long cuts about ¼" deep across the top. The scores can be parallel or crossed. Let the dough rest about 10 minutes.

Brush generously with egg wash (may use milk, oil or melted butter). Sprinkle the top with coarse sea salt (optional).

Bake for 25 minutes. Remove and let stand on a cooling rack for 30-40 minutes.

Slice or tear apart and serve with butter or honey.
Recipe Notes
*This makes 13 oz of dough that will bake down to a 12 oz loaf.
**This will bake to a size of about 6" diameter by 2 ½" high.
Slice and store in a Ziplock bag in the freezer. Pop in the toaster to reheat.
Check out Chēbē All Purpose Mix and Check out Chēbē Original Mix here.