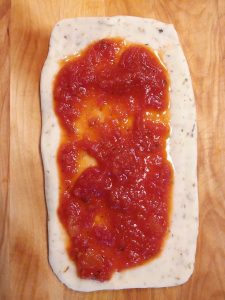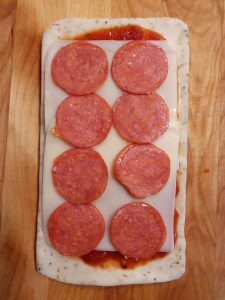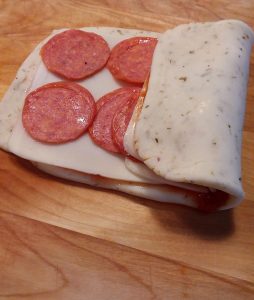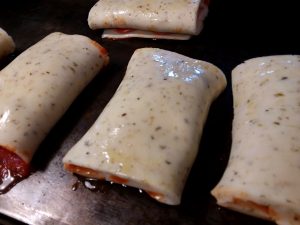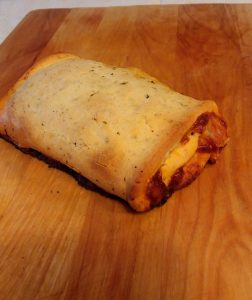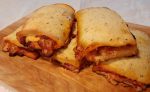 Pizza Foldovers
Ingredients
1

package (7.5 oz)

Chebe Pizza Crust Mix

1.5

oz

Parmesan Cheese

(may substitute dairy-free version)

2

large eggs or aquafaba*

4

Tbsp

milk or milk substitute

2

Tbsp

oil + olive oil for brushing

10

Tbsp

marinara sauce

(Sugar burns! Use sauce with no sugar added.)

10

slices

mozzarella cheese

(may substitute dairy-free version)

40

slices

pepperoni
Instructions
Preheat the oven to 400F. In a mixing bowl, add the Chebe mix. With a fork, blend in the cheese, eggs, milk, and 2 Tbsp oil.

Mix for a couple of minutes with the fork, then use your hands and knead it for a couple more minutes until the dough is smooth and well blended. Separate the dough into 5 equal pieces.

Roll one piece into a 7" x 4" rectangle. Spread 2 Tbsp marinara sauce over the surface. Lay 2 slices of mozzarella cheese to cover the sauce. Place 8 slices of pepperoni evenly over the cheese.

From the long end, fold one third to the center, and then fold again making a roll. With a spatula, place the Foldover on a baking tray. Repeat the process with the other four Foldovers. Brush them all with olive oil.

Bake for 22 – 25 minutes (check at 20 minutes as ovens vary).

Remove from oven and let rest for 20 minutes. Trim the melted cheese and serve.
Recipe Notes
*For an egg-free version, use 6 Tbsp aquafaba.
This recipe works great with Chēbē Pizza Crust Mix, but you may also try it with these Chēbē mixes: