Aw, the mushroom! Not a plant and not an animal. But let's just state the obvious… this is an awesome food! Not only are mushrooms packed with nutrients, fiber, antioxidants, etc., when sauteed with onions and a little white wine the flavor and texture of this wonder-food is phenomenal!
And Gruyère cheese. Swiss by nature and described as "opening with full-bodied, fruity tones, the flavors slowly journey towards earthy and nutty with a soft finale to finish."
Well, add a little fresh thyme to these two savory delights and you have a combination of flavors that is repeated in recipe after recipe. So here is one more. Our mushroom, thyme and Gruyère Chēbē tartlet! Sophisticated yet simple, this one will amaze. Pop a seasonal topper on these (hearts, stars, or whatever your cookie cutters can punch out) and you'll impress even more!
Oh, and one more plus: With Chēbē it's gluten and grain free!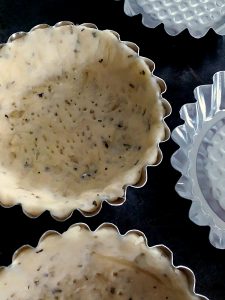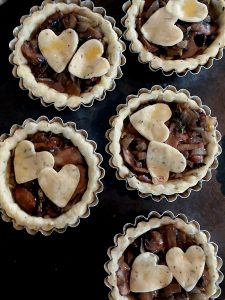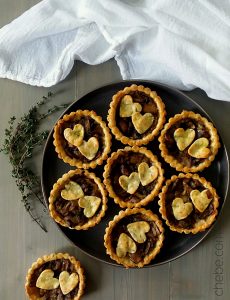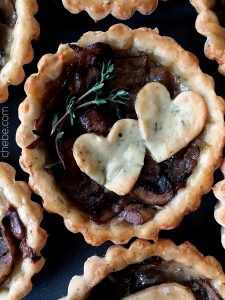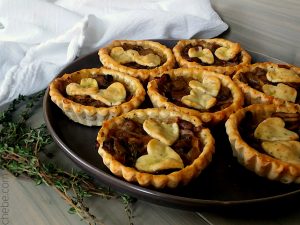 We got our idea for this from these two sites: Fox and Briar and @hautesucre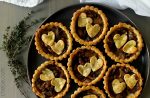 Mushroom, Thyme and Gruyère Tartlets
Ingredients
Filling:
1

Tbsp

butter

1

Tbsp

olive oil

1

small onion,

finely chopped

4

cloves

garlic,

pressed and chopped

8

oz

mushrooms,

sliced

2

Tbsp

balsamic vinegar

½

cup

white wine

1 - 2

Tbsp

fresh thyme

Salt and pepper to taste

3

oz

Gruyère cheese,

shredded

Egg wash

(blend 1 egg + 1 Tbsp water)
Dough:
1

package (7.5 oz)

Chebe Focaccia or other Chebe savory mix

1

oz

sharp Gruyère cheese,

shredded

2

eggs,

large

4

Tbsp

milk or milk substitute

(water if using Original Chebe Mix)

2

Tbsp

oil
Instructions
Heat butter/olive oil in a small pan and sauté the onions for a few minutes. Add the garlic and mushrooms stirring until softened. Add vinegar and wine, stirring and cooking until the liquid is evaporated. Stir in the thyme, season with salt and pepper. Set the mixture aside.

Preheat oven to 375F. In a mixing bowl, add the Chebe mix. With a fork, blend in 1 oz of the cheese, eggs, milk, and oil. Mix for a couple of minutes then use your hands and knead it until the dough is smooth and well blended. Separate the dough into 12 equal pieces (about 1.25 oz each if you have a scale).

Roll 8 of the pieces* with your hands until the dough is smooth. Roll the other 4 pieces together again to be used later for the ornamental toppers (hearts, stars, or whatever cookie cutter shape you have on hand).

Using 8 tartlet pans, press each piece into them being sure to cover the bottom and side of the pan evenly.

With the tines of a fork poke the base of the dough thoroughly in order to reduce puffing in the oven.

Place the tartlet pans with the dough on a baking sheet and bake for 5 to 6 minutes.

While the tartlets are par-baking, flatten the remaining dough with a rolling pin and cut out your ornamental dough toppers.

Remove the tarts from the oven and press down any puffy dough with a spoon. Add to each tartlet a good pinch of cheese spreading it along the bottom. Top the cheese with the mushroom mixture.

Lay the ornamental toppers over the mushroom mixture. Brush the tops and the rims of the tarts with egg wash. Return the tarts to the oven and bake for 15 – 16 minutes. Remove and serve.
Recipe Notes
*If using a different size of tartlet pan, adjust the quantity of dough in each according to its size.
We got our idea for this from these two sites: Fox and Briar and @hautesucre
This recipe works great with Chēbē Focaccia Mix, but you may also try it with these Chēbē mixes: