Carol at Simply Gluten-Free was looking for a treat to make for a friend who could not tolerate gluten or rice. Rice flour is in many if not most gluten free baked items, but it's not in Chēbē! In fact, there are no grains, or soy, or potato, or yeast in Chēbē mixes. The great thing about Chēbē is that it's free of all of that, but it tastes like it's full of all that!
Anyway, this is what she made for her friend. "The crust is crispy and rich (the perfect base for the chocolate) and these were so simple to make!"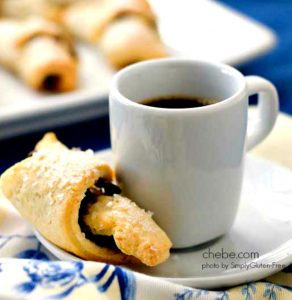 Recipe and photos by Simply Gluten-Free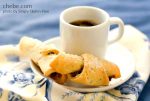 Grain Free Chocolate Crescent Cookies
Ingredients
1

package (7.5 oz)

Chebe Original Bread Mix

1

large egg

4

oz

cream cheese

at room temperature

¼

cup

milk

4

oz

cold butter

cut into small pieces

2

Tbsp

butter

melted

3

Tbsp

granulated sugar

1/2

cup

semisweet mini chocolate chips

1

Tbsp

coarse sanding sugar
Instructions
Place the Chebe mix, egg, cream cheese and milk in the bowl of a food processor and process until it forms a dough. Add the cold butter and pulse several times to combine.

Divide the dough into 3 equal pieces, pat into disks, wrap in plastic wrap and put in the freezer for 10 minutes.

Preheat oven to 350 degrees. Line 2 cookie sheets with parchment paper or silicon baking mats.

Place a piece of parchment or waxed paper on a work surface, place one of the dough disks on top (keep the others in the freezer until ready to roll) and cover with another piece of parchment or waxed paper. Roll out the dough into an 8 inch circle. Spread the dough with about some melted butter, sprinkle with 1 tablespoon of granulated sugar and 3 tablespoons of mini chocolate chips. Using a pizza cutter or large knife, cut the dough into 8 wedges.

Starting from the wide end, roll each wedge into a crescent and place on the cookie sheets. Continue until all the cookies are formed. Brush the top of each cookie with some melted butter and sprinkle with sand sugar.

Bake for 25 minutes or until the cookies are browned and the dough is crisp. Let cool on the cookies sheets for 5 minutes then transfer to a wire rack to finish cooling.
This recipe works great with Chēbē Original Cheese Bread Mix, but you may also try it with this Chēbē mix: