Watching an episode of The Great British Bake Off aired on PBS, the bakers were tasked with making fougasse.  Fougasse is a flatbread originating in Provence and is shaped in the image of a leaf.  If you go online to see some images of fougasse, they can be very artistic. Chebe Bread is so easy to shape that we thought this a no-brainer.  We topped ours with olive oil, freshly ground pepper, coarse sea salt, and a scattering of shredded Parmesan cheese.
Whether you want to impress the invited, or enjoy it on your own, this artstic piece can be ready in just 35 minutes, cupboard-to-table.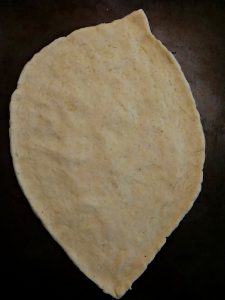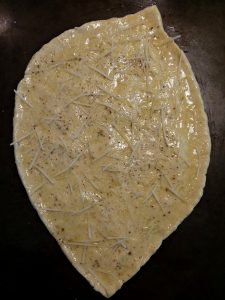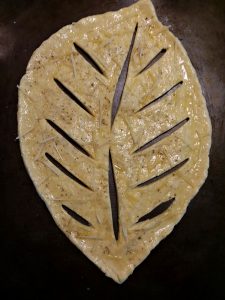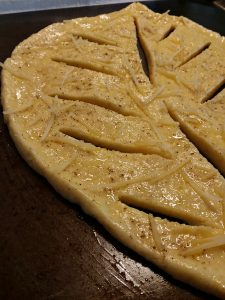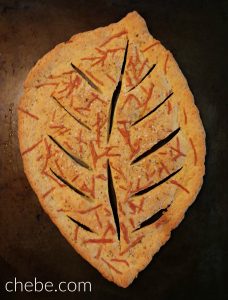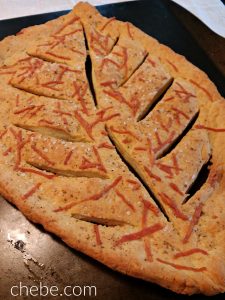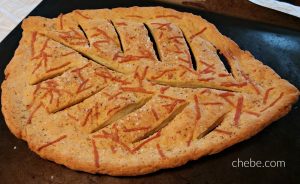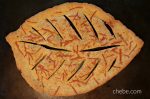 Gluten and Grain Free Fougasse (flatbread)
Ingredients
Dough:
1

package (7.5 oz)

Chebe Original Cheese Bread Mix.

2

tsp

black pepper

freshly ground

2

oz

Parmesan Cheese

grated

4

Tbsp

water

2

large

eggs

or aquafaba*

2

Tbsp

olive oil
Topping:
2

Tbsp

olive oil

1

Tbsp

coarse sea salt

1

tsp

black pepper

freshly ground

handful

Parmesan cheese

shredded
Instructions
Preheat oven to 375F

In a bowl, use a fork to blend the Chebe mix with the pepper and cheese. Continue blending in the water, eggs and oil.

Mix for a couple of minutes with the fork, then use your hands and knead it until the dough is smooth and well blended.

On a non-oiled baking sheet, flatten the dough with your hands into the shape of a leaf. The dough should be fairly even and the edges smooth. The dimensions should be about 12" x 10".

Brush the surface of the dough with olive oil, then sprinkle with the sea salt, ground pepper and Parmesan.

With a knife, make a couple of cuts in the middle and lengthwise (the represents the stem of the leaf) and then a few cuts that branch out from the stem. Widen the cuts with your knife so that there is a gap. When baking, this gap will close a little. (See above photos for reference, or go online and search for images of fougasse bread.)

Bake for 20 minutes or until the crust is golden brown. That's it! It's ready to serve. The cuts make it easy to break the bread into smaller portions. We think you're going to love it!
Recipe Notes
*For an egg-free version, use 6 Tbsp aquafaba.
You can top this with a variety of herbs and veggies. Consider rosemary, basil, caramelized onion, olives, tomatoes, etc.
This recipe works great with Chēbē Original Cheese Bread Mix, but you may also try it with these Chēbē mixes: