"I am feeling fancy!! Why you ask? Because I made palmiers. Honestly, I have never had or really heard of palmiers until a few weeks ago when I was watching this episode of Pioneer Woman. It was an episode all about ways to use puff pastry. Sadly for us gluten free people…it is a no go on the puff pastry. If you have read other posts of mine you know I am not a huge baker. Yes, I am getting better and have quite a few recipes for baked goods here on GFJ, but I do not have patience for tedious baking. Being a mom to a crawling, curious 7 month old I also don't have much time for fancy pastries.
Good news for gluten free, no -patience for fancy pastry people like me…you can make palmiers using All-Purpose Bread Mix from my friends at Chēbē. They look super fancy, but are easy to make. What I love about palmiers is that you can customize the filling any way you want…sweet, savory, spicy…the possibilities are endless. If you want to make a homemade appetizer that wows, this is it." – Jessica Schlangen , Gluten Free Jess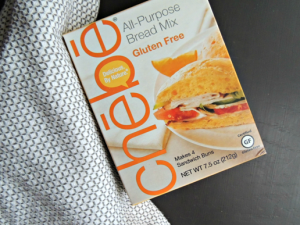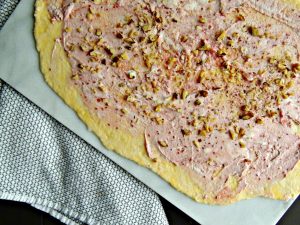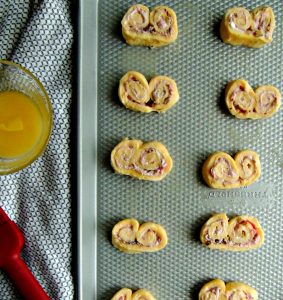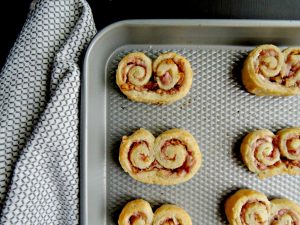 Recipe and photos by Gluten Free Jess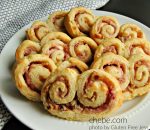 Gluten Free Raspberry Walnut Goat Cheese Palmiers
Ingredients
Dough
1

package (7.5 oz)

Chebe All-Purpose Bread Mix

4

Tbsp

milk or milk substitute

2

Tbsp

oil

2

large eggs

at room temp
Filling
2

oz

goat cheese

softened to room temperature

2

Tbsp

raspberry preserves

1

Tbsp

raw walnuts

finely chopped

1

Tbsp

melted butter

1

tsp

course sea salt
Instructions
Preheat oven to 375°.

Make the bread mix according to package directions (Omit the optional step of adding cheese to the dough).

Carefully roll out the dough to a rectangle that is approximately 10x14 inches. If you roll this out on a marble board you do not need to flour it, but if you are using a wood board you will need to lightly dust with gf flour.

Combine the raspberry preserves and softened goat cheese and spread in an even layer on the dough.

Sprinkle finely chopped walnuts on top of the goat cheese mixture.

Carefully begin to roll each side in until the two rolled parts meet in the middle.

Place the rolled dough in the fridge for 10-15 minutes to chill.

Using a sharp knife slice the dough into ½ inch thick pieces and lay on a lightly greased baking sheet.

Melt butter and brush the tops of the palmiers.

Sprinkle with sea salt.

Bake for 15 minutes or until the palmiers are lightly golden brown.
This recipe works great with Chēbē All Purpose Mix, but you may also try it with this Chēbē Mix: