"I decided to give this weeknight staple a makeover and make them not so sloppy! I encased my Sloppy Joe filling in little packets made with Chēbē Bread Mix. Since my boys (which include the hubby) always liked their Sloppy Joes with cheese, I just put the cheese into the dough. If you are dairy-free, you can omit the cheese and make sure you use Chēbē All-Purpose Bread Mix (which is dairy-free) instead of the Chēbē Original Cheese Bread Mix.
The verdict? My hubby wolfed down two before I could even snap a photo! Since he has the palate of an 8 year old boy, I say this is a giant thumbs up as far as kid-friendly, quick meals go! As for me, I have always been a fan of the taste of Sloppy Joes but not the sloppiness – so I think this is a win-win recipe!" – Carol Kicinski, Simply Gluten-Free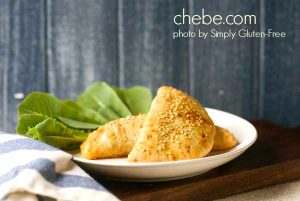 Recipe and photos by Simply Gluten-Free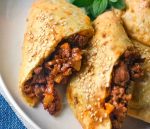 Gluten Free Not So Sloppy Joes
Ingredients
Filling:
3

Tbsp

olive oil – divided

1

cup

finely chopped onions

(1 small onion)

1

cup

finely chopped green bell pepper

(1/2 large pepper)

2

cloves

garlic,

minced

1

pound

lean ground sirloin

1

tsp

kosher salt

1/2

tsp

freshly ground black pepper

1

tsp

chili powder

1/2

tsp

dry mustard powder

2

Tbsp

gluten free Worcestershire Sauce,

such as Lea & Perrins

3/4

cup

ketchup
Dough:
1

package (7.5 oz)

Original Chebe Mix or Chebe All Purpose Mix

1

cup

grated cheddar cheese,

omit for dairy-free

3

large eggs -

divided

4

Tbsp

water, milk, or milk substitute

1

tsp

sesame seeds
Instructions
Preheat oven to 375F. Line a baking sheet with parchment paper or a silicon baking mat.

Heat 1 tablespoon of olive oil in a large skillet over medium heat. Add the onions and green pepper and cook, stirring occasionally, until softened, about 5 minutes. Add the garlic; cook for another 30 seconds, stirring. Add the ground sirloin and break it up with a spatula.

Cook until the sirloin is no longer pink, about 5 minutes. Add the salt, pepper, chili powder, mustard powder and Worcestershire Sauce. Stir well. Add the ketchup and cook until the mixture is heated through.


In a large mixing bowl, combine the Chebe mix with the cheese (if using), 2 tablespoons of olive oil, 2 eggs, and 4 tablespoons water. Mix with a fork until combined. The mixture will be lumpy, that's ok.

Dump the mixture onto a clean work surface and knead until the dough is smooth and no longer sticky. Cut into eight equal sized pieces and roll them into balls.

Place a piece of waxed or parchment paper on your work surface. Flatten one of the balls, top with another piece of paper and roll into a 6 inch circle. Place about 1/3 cup of the Sloppy Joe mixture onto half of the circle, leaving a 1/2 inch border.

Fold the other half of the dough over the filling, press the edges together, sealing well. Place on the prepared baking sheet and repeat with the remaining dough and filling.

Whisk the remaining egg with about 1 tablespoon of water and brush the tops of the dough with the mixture. Let dry for about a minute, brush again, then sprinkle with the sesame seeds. Bake for 20 – 25 minutes or until the crusts are golden brown.