"Prepare to be amazed. These gluten free mini apple cheesecakes taste so good, you will have to stop yourself from eating them all! Added bonus? Using Chebe Cinnamon Roll Mix makes this crust grain free as well!"  – MI Gluten Free Gal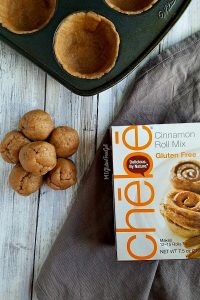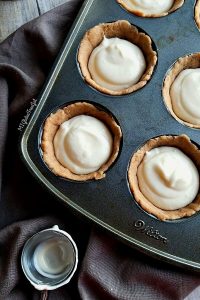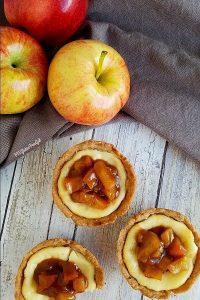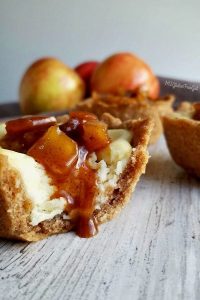 Recipe and photos by MI Gluten-free Gal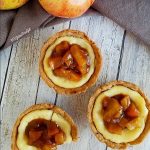 Gluten Free Mini Cheesecakes with Apple Topping
Ingredients
For the Crust
1

package

Chebe Cinnamon Roll Mix

1

Tbsp

oil

1

egg

4

Tbsp

cold butter,

cut into chunks

4

Tbsp

ice cold water
For the cheesecake
1/3

c

sugar

8

oz

cream cheese,

softened

4

oz

Marscapone cheese,

softened

1

egg,

room temperature

1 1/2

tsp

vanilla
For the apple topping
1

tsp

lemon juice

2

apples,

cored, peeled and cubed

1/2

Tbsp

butter

4

Tbsp

brown sugar

1/2

tsp

cinnamon

pinch of cloves

1

tsp

cornstarch

4

Tbsp

water
Instructions
Prepare the crust. Add the Chebe Cinnamon Roll mix to a food processor, along with the oil and egg. Use a fork to quickly mix them together. (This prevents loose powder from flying all over the processor!)

To that, add the cold butter. Pulse until a dry sand texture develops. This should take 6-7 pulses.

Slowly add the ice cold water to the processor, one Tbsp at a time. Process until a ball of dough forms.

Separate the ball of dough into 12 portions. I use a scale when I do this, and it roughly comes out to 30 grams per portion. Press the dough into the wells of a muffin tin. (I find a tortilla press helpful to uniformly flatten the dough.)

Once the dough is pressed into all the wells, stick in the freezer to chill. (At least ten minutes. This helps to prevent the crust from shrinking while baking.)

Preheat the oven to 350F.

Using a handmixer or KitchenAid stand mixer, cream the cream cheese and marscapone cheese together with the sugar. (If you don't have marscapone cheese, you can simply use more cream cheese.) To that, mix in the egg and vanilla.

Once blended, remove the crusts from freezer and fill the crusts. I used a one ounce pampered chef scoop to fill mine. Each crust received a large heaping scoop of batter.

Bake cheesecakes for 15 minutes. Then drop temperature to 325F for another 15 minutes. (This is to help the batter from cracking.)

Once baked, remove from oven and cool on the counter for 30-45 minutes. Further chill in the refrigerator for 2 hours.

30 minutes to an hour prior to serving, prepare the apple filling. Remove cheesecakes from fridge to allow crust to come to room temperature.

In a medium bowl, place a teaspoon of lemon juice, to prevent the apple pieces from browning. Core, peel and cube apples, and place in bowl. Toss gently to coat all apple pieces.

In a medium pot, melt butter.

To the apples, add the brown sugar, cinnamon, and cloves. Transfer apples to pot with melted butter and cook, covered, for 10 minutes.

Meanwhile, combine cornstarch and water in a small dish.

After apples have cooked to desired tenderness, add cornstarch and water mixture to apples. Cook until it just starts to thicken. (If you need to eat a grain free diet, you can skip this step. There will simply be less "sauce" with the apples.)

Top mini cheesecakes with apple filling and serve.
Recipe Notes
(A quick note about the apple topping. It does use one teaspoon of cornstarch. If you need a 100% grain free recipes, please consider using arrowroot starch instead. It cooks clear and will not discolor your topping.)
Recipe by MI Gluten-free Gal