There is nothing more quintessentially summer than blueberries.  Gluten and grain free Blueberry Hand Pies made with Chēbē dough to be exact – perfect for picnics, beach trips, and hikes. The Great Outdoors and Blueberry Pies – a perfect combo!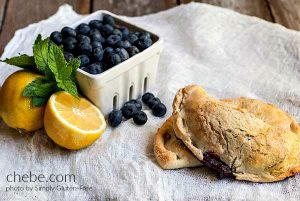 Recipe and photos courtesy of Simply Gluten Free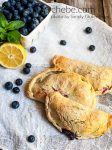 Gluten Free Blueberry Hand Pies
Ingredients
2

cups

of fresh blueberries

1/4

cup

plus 1 Tbsp sugar

1/2

lemon,

juiced and zest finely grated

2

tsp

corn starch or tapioca starch

1

(7.5 ounce) box Chebe Original or All Purpose Bread Mix

4

Tbsp

water, milk, or milk substitute

3

large eggs,

divided

2

Tbsp

melted butter or vegetable oil
Instructions
Filling
Combine 1 1/2 cups blueberries in a saucepan with 1/4 cup of sugar, lemon juice and zest. Bring to a boil, reduce heat and simmer for 5 minutes or until the blueberries are very soft and start to burst.

Combine the corn starch or tapioca starch with 2 Tbsp of water and stir into the blueberries. Increase heat, bring back to a boil, and boil until the mixture thickens, about 30 seconds.

Remove from heat. Add the remaining 1/2 cup blueberries and cool completely. (To speed up the cooling process, place the sauce pan in a large bowl of ice water for a few minutes and stir occasionally until cool.)
Dough
Combine the Chebe mix with 2 eggs, the oil or melted butter, and 4 Tbsp of water. Stir until just combined.

Knead the dough with your hands until smooth, about 2 minutes.

Divide the dough into 6 equal portions and roll into balls.

Place 1 piece of wax or parchment paper on your work surface, place a piece of dough on top with another piece of parchment paper, flatten into disk and roll into a 6 inch circle.
Pies
Spread 2 heaping Tbsp of the cooled blueberry mixture on one half of the dough, leaving a 1/2 inch border around the edge.

Fold the dough over, forming a half circle. Pinch the dough edges together, fold over to crimp and place on a parchment lined baking sheet.

Repeat with the remaining dough and blueberries.

Using a fork, pierce the top of the dough several times. Whisk the remaining egg with a splash of water, brush the top of the hand pies, and sprinkle with sugar. Bake for 20 minutes or until the crusts are lightly browned. Let cool.
Recipe Notes
Frozen fruit could be used. You would have to let it thaw out first. The only draw back is that the fruit then is not as fresh, crispy and tasty.
Recipe courtesy of Simply Gluten Free