Here's a basic back-of-the-box preparation of the Focaccia Mix, adding black olives, shallots, and a little balsamic glaze. We appreciate the photos provided by American Gluten Free.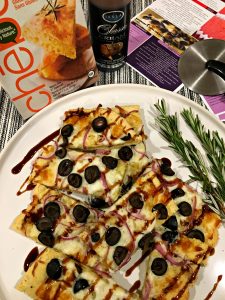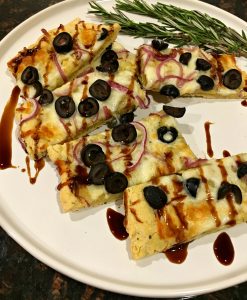 Photos by American Gluten Free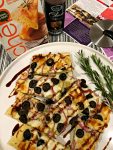 Focaccia with Black Olives, Shallots and Rosemary
Ingredients
1

package (7.5 oz)

Chebe Focaccia Mix

4

Tbsp

olive oil – use divided

2

large eggs

4

Tbsp

milk, milk substitute or water

1

Tbsp

rosemary

finely minced if fresh

1

cup

black olives

halved

1

shallot

sliced

1

teaspoon

kosher or coarse sea salt

½

teaspoon

freshly ground black pepper

Balsamic Glaze
Instructions
Preheat oven to 375F. Line a flat baking sheet with parchment paper or a silicon baking mat.

In a mixing bowl, combine the focaccia mix with 2 tablespoons olive oil, and the eggs. Stir to combine.

Add the milk/water and mix, the mixture will appear crumbly. Dump the mixture onto a work surface and knead with your hands until the dough is smooth.

Place the dough on the prepared baking sheet and roll into an oval or rectangle about 12 by 8 inches.

Brush the dough with 1 tablespoon of olive oil. Top the dough with the rosemary, black olives and shallots.

Drizzle with the remaining tablespoon of oil and sprinkle on the salt and pepper.

Bake for 30 – 35 minutes or until the dough is browned.

Cool for about 5 minutes and serve. Drizzle with Balsamic glaze for a sweeter version!
"Chebe mixes are AWESOME! Yes, there IS bread for people eating GF, and it's delicious! The mixes are very versatile. Have them delivered effortlessly with Amazon." – Philana Danceforth