Focaccia bread lends itself to so many wonderful creations. With this recipe, the combination of apple, Gruyère cheese and rosemary is an unbelievable, knock-your-socks-of flavor. And the Chēbē dough is both crisp and chewy, which adds to the texture and flavor to make this appetizer/meal really stand out. To get the full savory-sweet effect, be sure to use an apple that that is not too tart and that does well when baked, like a Jonagold or a Honeycrisp.
This recipe is great with a cup of coffee in the morning, or with drinks and a gathering of friends. And it's worth repeating: this is a Focaccia with a knock-your-socks-of flavor!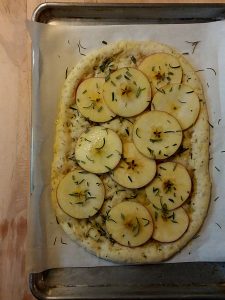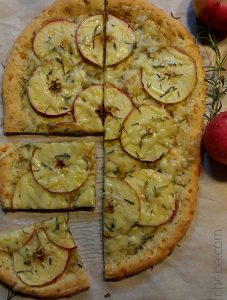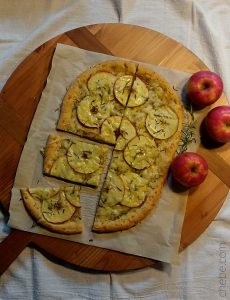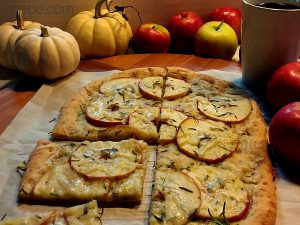 Recipe adapted from Williams Sonoma.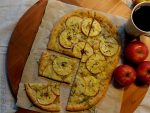 Focaccia with Apple, Gruyère and Rosemary
Course:
Breakfast, Main Course
Ingredients
1

package (7.5 oz)

Chebe Focaccia Mix

4

oz

shredded Gruyère cheese,

divided

2

large eggs

4

Tbsp

milk or milk substitute

5

Tbsp

olive oil,

divided

2

Tbsp

chopped rosemary

2

apples cut horizontally to ¼ in inch slices (about 12 slices).

Jonagold, Honeycrisp, or Fuji are good varieties for this.
Instructions
Preheat oven to 425F. In a mixing bowl, add the Chebe mix. With a fork, blend in 2 oz of the shredded Gruyère, milk, eggs and 2 Tbsp of the olive oil. Mix for a couple of minutes with the fork, then use your hands and knead it until the dough is smooth and well blended.

On a clean surface, press the dough into a 12 x 9 inch oval or rectangle. (You may want to dust the working surface with a gluten free flour or food starch.)

Place the dough on a baking sheet. A sheet of parchment paper under the dough is optional. With the tips of your fingers, poke the surface of the dough to make lots of dimples. Brush the surface with 2 Tbsp of olive oil. Scatter half of the chopped rosemary evenly over the dough. Bake for 6 minutes.

Remove from oven and layer the apple slices as you like, then brush with 1 Tbsp of olive oil. Scatter the remaining rosemary over it all and return it to the oven for 12 minutes.

Remove again and evenly distribute the remaining 2 oz cheese over the top. Back to the oven for 3 more minutes to melt the cheese. Remove the Focaccia from the oven for the last time, slice and serve. (And prepare your taste buds for wonder!)
Recipe Notes
Dairy free cheese can be used if preferred.
Recipe adapted from Williams Sonoma.
This recipe works great with Chēbē Focaccia Mix, but you may also try it with these Chēbē mixes: