Egg Free, Dairy Free Brazilian Cheese Bread?! Chēbē, fist in the air, shouts YES! With (grain free) Chēbē, you are in control of those sensitive ingredients, and we have come up with a formula that hits the mark.  So, if you avoid egg and dairy by choice or by biology, you can now enjoy that WONDERFUL invention called Brazilian Cheese Bread!
So, this is…. Gluten Free: Yes.  –  Grain Free: Yes.  –  Potato Free: Yes.  –  Soy Free: Yes.  –  Yeast Free: Yes.  –  Dairy Free: Yes.  –  Egg Free: Yes.  Yes, Yes, Yes, Yes, Yes!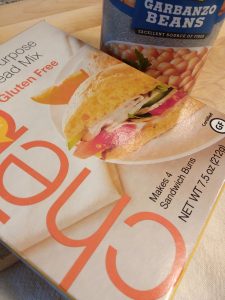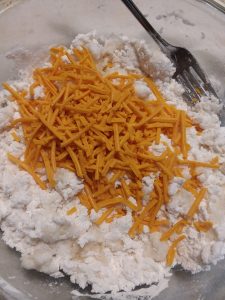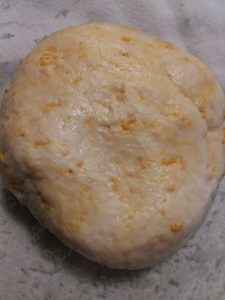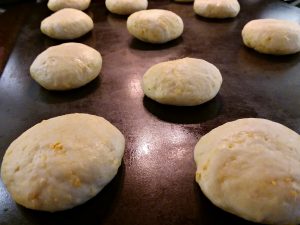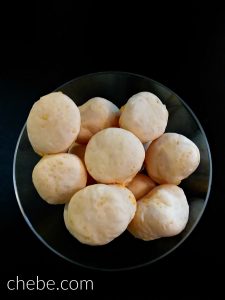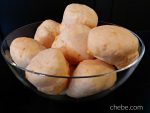 Egg Free, Dairy Free Brazilian Cheese Bread!
Ingredients
1

package (7.5 oz)

Chebe All Purpose Bread Mix

6

Tbsp (75g)

aquafaba (liquid from a can of chickpeas)

See note below

4

Tbsp

milk substitute

(almond, soy, etc.)

2

Tbsp

oil

2

oz

dairy free or vegan cheese

cheddar flavor (e.g. Daiya)
Instructions
Preheat the oven to 375 F. In a mixing bowl with a fork, blend the Chebe All Purpose Mix with 6 Tbsp aquafaba (you can measure 75g if you have a scale).

Continue blending while adding the milk substitute, oil and cheese. (You could also do this in a food processor that can handle bread dough.) When the fork can no longer blend the ingredients, use your hands to complete the process. Blend until the dough is smooth.

You should have 14 to 15 oz of dough. Separate into 12 equal pieces and roll them into a smooth ball, then flatten them into a plump disc shape and place them on a baking tray.

Bake for 20 to 25 minutes. Remove from oven and let cool slightly.
Recipe Notes
What is 'aquafaba'? Aquafaba (bean water) is the liquid from cooked legumes (pinto beans, chickpeas, lentils, etc.). It works great as an egg substitute for many applications (3 Tbsp = 1 egg). The liquid can be from cooking the raw legumes on your stove or that from a can of beans. With this recipe we used the liquid from a can of chickpeas (garbanzo beans). Its consistency works very well for the 3 Tbsp = 1 egg exchange.
Depending on the cheese substitute that you use, this can be a 100% vegan recipe for Brazilian 'Cheese' Bread!
If you want to save some for another day, freeze them in an airtight container. Reheat in a hot (450 F) oven for 5 – 8 minutes.
Want bread sticks and not rolls? Just roll them out how you like!
It goes great with a dab of jam, a dollop of hummus, or dip it into marinara sauce.
This recipe works great with Chēbē All-Purpose Bread Mix, but you may also try it with these Chēbē mixes: