"Lunch time, snack time, game time. These gluten free cheeseburger muffin cups are perfect ANY time. Made with grain free Chebe Bread All Purpose Mix, they're a definite winner.
This recipe is a reinvention of the muffin tin cheeseburgers I saw on the Twisted website. They used hamburger buns. However I chose to use Chebe dough. Grain free, gluten free and free from the top allergens, this versatile mix becomes just about anything you can imagine." – MI Gluten-free Gal
Recipe and photos by MI Gluten-free Gal.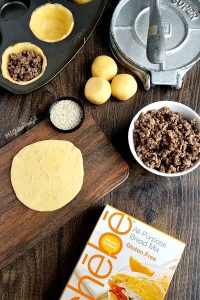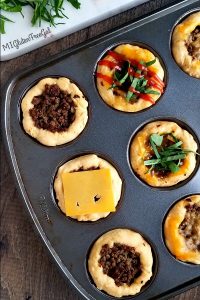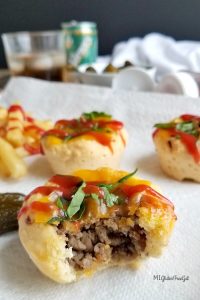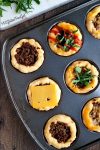 Cheeseburger Muffin Cups
Ingredients
For the Dough
1

package (7.5 oz)

Chebe All Purpose Mix

1/3

cup

shredded cheddar cheese

2

Tbsp

oil

2

eggs

3

Tbsp

water
For the Filling
1

lb

ground sirloin

1/4

cup

finely minced onion

1/2

tsp

minced garlic

1/2

tsp

seasoning salt

1/4

tsp

salt

1

tsp

Worcestershire sauce
For Toppings
Small squares of your favorite cheese

Condiments: lettuce, ketchup, mustard, pickles
Instructions
Preheat oven to 350F. Add Chebe mix and 1/3 cup of shredded cheddar cheese to food processor*. Pulse 5-6 times to further break down the shreds of cheese and incorporate into the mix.

Next, add the 2 tbsp of oil, and pulse until fully blended. Add eggs and repeat.

Lastly, stream the 3 Tbsp of water into the dough while the food processor is on. It should come together in a small ball of dough. There will likely be residual mix in the bottom of the food processor bowl.

Dump the dough out onto a flat surface, and sprinkle any remaining powder mix on top and incorporate into dough. Knead until a soft but firm ball of dough is reached. Set aside and cover with plastic wrap to prevent drying out.

Meanwhile, prepare the filling. Dice onions into small pieces and cook in a hot skillet with the ground beef. (I use ground sirloin.)

Season meat with spices and gluten free Worcestershire sauce. (In the United States, Lea and Perrins contains no gluten.) Set aside.

Grab the ball of dough and portion it into 12 equal pieces. (I used my scale and they weighed approx. 35 grams each.) I used a tortilla press**, lined with plastic (parchment works to) to press the dough balls into uniform circles. I then sprinkled mine with a bit of sesame seeds (completely optional). (Depending on the non-stick nature of your muffin tin, you may want to spray the wells with a bit of vegetable oil.)

Press the circle of dough, seeds down, into the muffin tin. Use fingers to firmly press the dough evenly into the muffin well.

Fill each muffin cup with cooked beef. Feel free to overfill and press down, as the beef will settle while cooking. Bake in oven for 25 minutes.

After 25 minutes, remove from oven, and top each cheeseburger muffin cup with two thin sliced squares of cheese. Return to oven for 2-3 minutes to melt cheese.

Remove from oven and top with desired condiments, such as ketchup and mustard, lettuce or pickles. Best served hot. Should they cool, they can be rewarmed in the microwave.
Recipe Notes
* I find this dough easiest to prepare in a food processor. However, it can also be done by hand according to the package instructions.
** A rolling pin works, too.
This recipe works great with Chēbē All Purpose Mix.