"I take zero credit for coming up with this beautiful design for raspberry holiday star bread. Of course, the original version is made with regular glutenous dough. No surprise that I wanted to see if I could do this in a grain-free version using the Chebe bread mixes. Guys, it worked!!
When Zoe (zoebakes) posted this beautiful star shaped bread filled with raspberry jam on her Instagram account a couple weeks ago I immediately thought to myself, "I gotta make that!" It took a couple of tries with the Chebe bread mixes but I think I came up with a delicious sweet bread that would be a lovely addition on your holiday morning breakfast table." – MinneCeliac
For more visuals, BreadIn5 has step-by-step photos of the star-making process.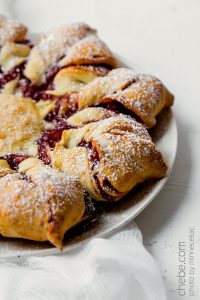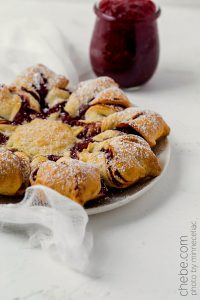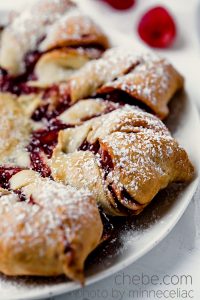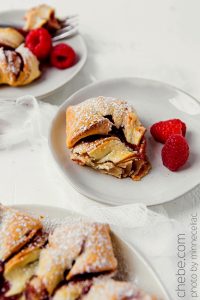 Recipe and photos by MinneCeliac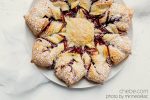 Chebe Raspberry Holiday Star Bread
Ingredients
1

package (7.5 oz)

Chebe All-Purpose Bread Mix

1/4

cup

granulated sugar

2

Tbsp

butter,

melted

2

eggs,

room temperature

3

Tbsp

milk

1/2

cup

raspberry jam

1

Tbsp

water + 1 additional egg,

for egg wash

sanding sugar

for decoration

powdered sugar

for decoration
Instructions
Preheat oven to 375F. Line a baking sheet with parchment paper.

Put aside about 1 Tbsp of the dry Chebe All-Purpose Bread Mix which will be used for dusting the dough when rolling it.

Mix together the remainder of the Chebe All-Purpose Bread Mix, 1/4 cup sugar, 2 eggs, 2 Tbsp melted butter, and 3 Tbsp milk and mix until combined.

Roll the dough into a ball and then cut into 4 equal parts. If you are using a kitchen scale you're looking for roughly 100 grams each.

Roll each section into a ball. I found that rolling it on parchment paper worked well for this step. Dust each dough ball with the extra dry dough mix. Then roll one dough ball out into about a 10-inch circle. Place on the parchment paper lined baking sheet.

Spread 1 1/2 Tbsp of raspberry jam over this layer leaving a little bit of dough exposed on the edges.

Continue to roll out the other pieces of dough. You will be layering the dough and raspberry jam; there will be 4 layers of dough and 3 layers of jam.

When finished layering the dough and jam, place a dough cutter or other small round object in the center of the dough. Then cut it into 16 equal pieces. First cut it into quarters, then cut those quarters into halves, and then cut those in half again.

Take 2 adjacent pieces of dough and twist outward 3 times, then pinch together the ends. When you've gone all the way around the circle, you will have 8 separate points of the star.

Brush entire bread with egg wash. Egg wash is just 1 egg and 1 Tablespoon of water, whisked together. I have a silicon brush I use that works just fine.

Sprinkle the center with sugar (sanding sugar is thicker and won't melt in the heat, but anything is fine).

Bake for 30 minutes until nice and golden brown.

Cool and then dust the edges with powdered sugar.
Recipe Notes
You can also use the Chebe Original Cheese Bread Mix and replace the milk in the recipe with water.
Recipe and photos by MinneCeliac
This recipe works great with Chēbē All Purpose Mix, but you may also try it with this Chēbē Mix: