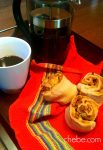 Chebe Pumpkin Spice Cinnamon Rolls
Course:
Breakfast, Dessert
Ingredients
For the rolls:
2

Tbsp

softened butter

(to add to pumpkin butter spread)

1

package

Chebe All Purpose or Original Chebe Mix

1/4

cup

Millet Flour

2

tsp

pumpkin spice

1

tsp

instant dry yeast

2

Tbsp

cooking oil or melted butter

2

eggs,

room temperature

4

Tbsp

milk or milk substitute,

room temperature

1/3

cup

chopped pecans,

optional
For the pumpkin spice (can make ahead of time):
2

tsp

ground ginger

2

tsp

ground cinnamon

1

tsp

ground nutmeg

1/2

tsp

ground clove
For the pumpkin butter (can make ahead of time):
1

can (15 oz)

pumpkin puree

1/2

cup

apple juice or apple cider

3/4

cup

white sugar

2

tsp

pumpkin spice
For the spiced maple icing:
2

tsp

maple syrup

2

Tbsp

milk

1/2

tsp

pumpkin spice

1

cup

powdered sugar
Instructions
Rolls:
Preheat oven to 375F. Blend 1/2 cup pumpkin butter with 2 Tbls softened butter and set aside.

Blend the mix, millet flour, spice, and yeast in a bowl. Add the oil (or butter), eggs and milk to the dry ingredients, mixing with a fork. Using your hands, blend and press the dough until it is smooth and well blended.

*With a rolling pin and a clean, flat surface, roll out the dough into a 9" x 10" rectangle. (You may wish to dust the surface with a little millet flour.)

With a spoon, spread a thin layer of pumpkin butter/butter blend over the surface of the dough, leaving about 1/2" of dough around the perimeter uncovered. Spread chopped pecans evenly over the pumpkin butter blend.

From the longer edge, loosely roll the dough into a 9" log. With your finger, gently seal the edge of the dough with water in order to keep log closed during baking.

Cut into 6 equal sized pieces. Place cut side down on a lightly greased baking pan, leaving space between each roll.

To allow the rolls to rise, you may use your oven. Turn it on for a couple of minutes, then turn it off. You want a warm environment (about 90F). Let the pan of dough rest for about 45 minutes in the oven.

Remove the pan from the oven and preheat it to 375F. Bake for 20 to 25 minutes. Remove and let cool. Drizzle with maple icing.
Pumpkin Spice:
Blend all ingredients well.
Pumpkin Butter (Like apple butter, this is nice on many types of breads and biscuits):
Blend all ingredients in a sauce pan.

Bring to a boil, then reduce heat and simmer for 20 to 30 minutes or until thickened. Stir often. (You will have leftover pumpkin butter. Store in the refrigerator in an air-tight container.)
Maple Icing:
Wisk together syrup, milk and pumpkin spice.

Slowly add powdered sugar while continuing to blend until reaching the desired consistency.
Recipe Notes
*For smaller rolls, roll the dough into an 8" x 12".  From the long edge of the dough, loosely roll into a 12" log and cut into 12 equal sized pieces.
May be stored in an air-tight container for the next day (briefly warmed in a microwave).