"Pumpkin Cinnamon Rolls! They are actually really easy to make. I usually find cinnamon rolls daunting because of dealing with yeast and letting them rise and all of that. The good news with this recipe is that all you have to do is use a Chēbē All-Purpose Bread Mix and add a few other things for amazing, easy cinnamon rolls.
There is just the right amount of filling to make the rolls sweet but not too sweet AND my favorite part…I totally cheat on the frosting. These would be delicious with a homemade cream cheese frosting or powdered sugar glaze. However, there are some really yummy organic frostings these days made from coconut oil and that is what I used for these. It's just so easy…I can't help it!" – Jess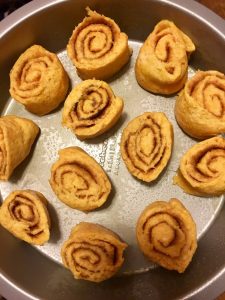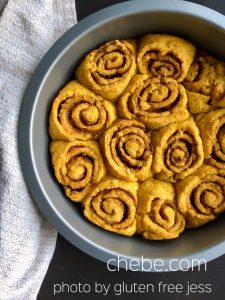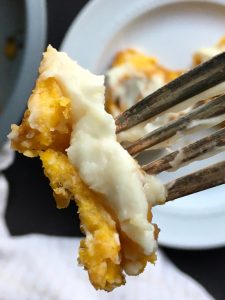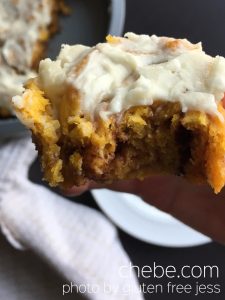 Recipe and photos by Gluten Free Jess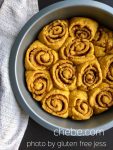 Chebe Pumpkin Cinnamon Rolls
Ingredients
Dough
1

packae (7.5 oz)

Chebe All-Purpose Bread Mix

1

Tbsp

sugar

1

tsp

baking powder

2

eggs

2

Tbsp

melted unsalted butter or dairy free equivalent

⅓

cup

pumpkin puree

2

Tbsp

milk or milk substitute
Filling
2

Tbsp

melted unsalted butter or dairy free equivalent

¼

cup

packed brown sugar

½

tsp

ground cinnamon

1

Tbsp

sugar

¼

tsp

salt
Icing
Your favorite store-bought organic vanilla frosting
Instructions
Preheat oven to 375 degrees F.

In a bowl add the Chebe mix, sugar, and baking powder. Stir with a fork to combine. Add in eggs and pumpkin puree. Stir until they start to incorporate.

Add in melted butter and continue to stir. Add milk and stir until fairly well combined. May appear slightly crumbled.

Turn out onto a board or counter and knead until smooth.

Roll out the dough into a 14 inch by 8 inch rectangle. You can lightly flour or grease your surface to prevent sticking.

Melt butter and pour onto the surface of the dough. Use your hands or a brush to spread it evenly over the entire surface.

In a small bowl combine the brown sugar, sugar, cinnamon, and salt. Spread evenly onto the dough. Roll the dough into a log.

Cut into 12 rolls. Place into a greased 9 inch round or 8x8 square baking dish. Leave space between the rolls. Bake for 24-25 minutes.

Frost with your favorite powdered sugar glaze or store-bought vanilla frosting (I like Simple Mills).
Recipe Notes
To make this recipe dairy free you could substitute the butter and milk with non-dairy versions.
Recipe by Gluten Free Jess
This recipe works great with Chēbē All Purpose Mix, but you may also try it with this Chēbē mix: