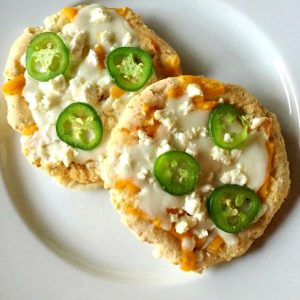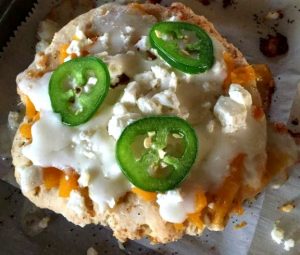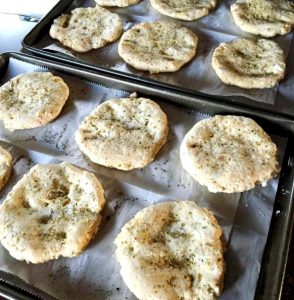 Recipe and photos courtesy of Gluten Free Zen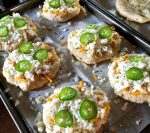 Chebe Jalapeno Flat Bread
Ingredients
2

packages (7.5 oz each)

Chebe All Purpose Bread Mix

2

tsp

garlic powder,

plus more for sprinkling

3

tsp

dried oregano,

plus more for sprinkling

1/4

tsp

sea salt,

plus more for sprinkling

6

Tbls

avocado oil

4

eggs

1

cup

filtered water

additional gluten-free flour or starch for dusting hands and surfaces
Toppings
2

fresh jalapenos,

sliced into rounds

Daiya cheddar style cheese

Sheep's Milk mozzarella

Sheep's Milk feta
Instructions
Preheat oven to 375F. Line two baking sheets with parchment paper and set aside.

Grate the Daiya cheese, mozzarella, and crumble the feta. The amount of cheese will depend on how many pieces of the flat bread you want cheesy. I did 6 out of the 12 and probably used about 3/4 cup of the Daiya, 1 cup of mozzarella, and maybe 1/4 cup of feta.

Measure all ingredients, except the jalapeno and cheeses, into a large bowl and stir with a fork until thoroughly combined. Scoop 12 mounds of dough onto the baking sheets and then flour hands and pat each dough mound into a circle. Sprinkle each with sea salt, garlic powder, and oregano. Bake for 35 minutes. Remove from oven and turn on broiler.

Top with cheeses in this order: Daiya, mozzarella, and feta. Place slices of jalapeno on top. Broil for a few minutes until cheese is melted and mozzarella is beginning to bubble.
This recipe works great with Chēbē All Purpose, but you may also try it with these Chēbē mixes: