Empanadas originated on the Iberian Peninsula and are popular throughout Latin America. Other parts of the globe have their versions of empanadas and may be referred to as pasties, samosas, or simply hand pies.  Empanadas are baked or fried. This recipe is the baked version, but if you prefer them fried, you don't need to change a thing except the cooking method. That's right, Chēbē dough loves the deep fryer!
Besides its great versatility (just have a look at the scores of recipes on this site alone!), fans of Chēbē dough love the fact that it is free of gluten, of all grains, potato, soy and yeast. So in addition to great flavor and texture, Chēbē accommodates many diets, including Paleo and low-FODMAP.
This recipe and its photos all come from Julie Pintozzi of It's A Wheatless Life. She creates an empanada with sweet and savory Asian flavors. We thank her for sharing it; she really did a tremendous job with this one!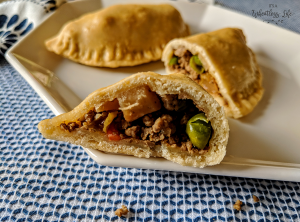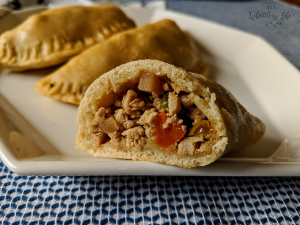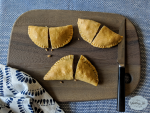 Asian-Style Empanadas
Ingredients
Meat Filling
½

lb

ground chicken

beef, or pork

¼

cup

white or yellow onion

finely chopped

2

cloves

garlic,

minced

1

cup

russet potato,

peeled and cut into 1/2" or smaller cubes (approx. 1 )

¼

cup

frozen peas/carrots mix

¼

cup

raisins

golden variety preferred

2

Tbsp

gluten-free soy sauce

1 ½

Tbsp

agave syrup

or to taste

¼

tsp

salt

or to taste

1

Tbsp

water---to moisten mixture. May add another Tbsp

if needed.
Dough
1

package (7.5 oz)

Chebe® All Purpose Bread Mix

2

tsp

sugar

3

large eggs

(1 beaten and reserved for egg wash)

4

Tbsp

milk or milk substitute

2

Tbsp

canola oil

A few drops of water to make the dough more workable

if necessary
Instructions
Preparing the Meat Filling
In a large skillet, add soy sauce and sauté the meat on medium heat until slightly browned. Approximately 10 minutes. (Drain grease, if using beef or pork and add soy sauce afterward.)

Add the onion, garlic, potatoes and sauté for 10-15 minutes or until the potatoes are cooked but a tad firm.

Add the frozen peas/carrots, raisins, agave syrup, salt, pepper, and cook for another 5 minutes.

Add 1 or 2 tbsp of water if the mixture appears dry. Remove from heat.
Preparing the Dough
Preheat the oven to 375°.

Pour Chebe® mix and sugar into a large bowl. Stir to blend.

Add the eggs, milk, and oil. Blend well with a fork.

Knead the mixture by hand until the dough is smooth and pull apart 12 evenly-sized pieces to make 12 empanada wrappers.

Roll each piece into a ball and use a rolling pin (or your handto form dough circles. The circles should be approximately 5" in diameter.

Put a heaping Tbsp or so of filling into the middle of each dough circle. Press down on one side to form a half-circle. (Do not overfill, as you won't be able to neatly seal your empanada.) Using a fork, press along the outside edges of the empanadas to seal.

Brush egg wash on top of each empanada and place them on a greased or parchment-lined cookie sheet.

Bake for 15-18 minutes. Let cool for a few minutes before serving. Enjoy!
This recipe works great with Chēbē All Purpose Mix, but you may also try it with these Chēbē mixes: