"Oh my gosh, you will never believe that this french toast bake is GRAIN FREE!! I know, I keep using capitalized letters when I talk about Chebe Bread, but the fact that it is grain free is blowing my mind. No rice, no corn, no soy, no wheat, no gluten. It's incredible!!
This recipe is rich and delicious and full of cinnamon flavor…and it's "stuffed" with cream cheese. What else could be better the that in the morning?! The bread and cream cheese is covered in a thick egg mixture and then baked to perfection. The only sweetness in this comes from a little bit of cane sugar in the Chebe dry mix and maple syrup. That's all there is to it!" – Kari, Minneceliac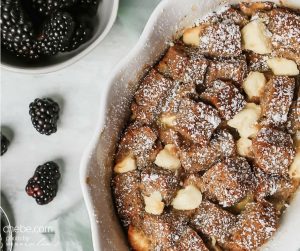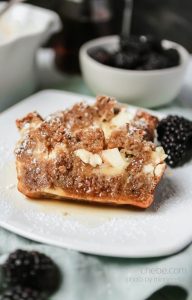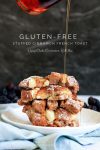 Stuffed Cinnamon French Toast Bake
Ingredients
For The Bread
1

package

Chebe Cinnamon Roll Mix

2

large eggs,

room temperature

2

tsp

baking powder

3

Tbsp

melted butter

or butter alternative

4

Tbsp

milk

or milk alternative
For the French Toast Bake
4

oz

cream cheese,

cut into 1/2 inch cubes, or non-dairy alternative

3

eggs

1/2

cup

half & half

or non-dairy alternative

1/8

cup

maple syrup

3

Tbsp

butter,

melted
Instructions
Preheat oven to 375F.

Blend Chebe Cinnamon Roll mix with melted butter and baking powder (this is optional, I like to add it). Slowly add in milk/milk substitute.

Knead dough until well combined. Using your hands, form dough into a loaf shape and place on a parchment paper lined baking sheet.

Bake loaf for 25 minutes until the outside feels hard when you tap on it and the bottom is a golden brown.

Let cool completely. Once cooled, slice bread loaf into 1-inch cubes.

Layer half of bread cubes on bottom of a 1-quart casserole dish (or 8×8 baking dish or loaf pan). Scatter cream cheese cubes evenly over 1st layer of bread cubes. Cover with remaining bread cubes.

Mix eggs, half and half, maple syrup and melted butter. Drizzle over bread/cream cheese mixture. Cover and refrigerate. You can do this for as little as one hour or even overnight.

Bake uncovered for 45-50 minutes until top cubes are golden brown and egg mixture is bubbling.

Slice, sprinkle with powdered sugar, and serve with maple syrup.
Recipe Notes
By doing most of the preparation the night before, it makes for an easy and quick bake off in the morning!
Recipe and photos by Minneceliac